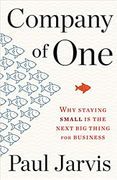 A One-Page Summary Of
Company of One
Why Staying Small is the Next Big Thing in Business
The Main Idea
Most people believe to have a successful company, you have to keep growing all the time. That's not necessarily the case. Forming a company of one and then deliberately staying that way indefinitely is often more durable, more profitable and more enjoyable than growing a large organization.

When you work for yourself and you're not trying to get bigger, you can work at being better instead. As you get better, you can spend more time doing what you personally find to be rich and rewarding. Rather than getting locked into managing employees, you can pursue your passions and spend more time with your family and other interests. That's the ultimate aim of building "A Company of One". The Company of One business model is: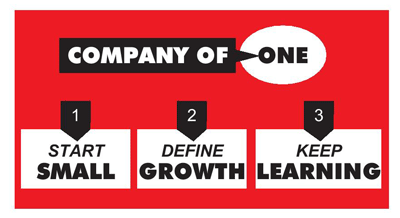 About the Author
Paul Jarvis is a writer and designer. He has run his own company of one for more than two decades and along the way hasworked with professional athletes like Shaquille O'Neal and Steve Nash, corporate giants like Microsoft and Mercedes-Benzand with entrepreneurs like Danielle LaPorte and Marie Forleo. His ideas about growth have been featured in Wired, USA Today, Entrepreneur, Fast Company, Forbes and other publications. Paul Jarvis currently teaches online courses, hostspodcasts and develops software.