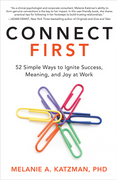 A 5 Minute Overview Of
Connect First
52 Simple Ways to Ignite Success, Meaning, and Joy at Work
About the Author
---
Melanie Katzman is a business psychologist, advisor, and consultant. She is considered an expert in the fields of executive development, group dynamics, and leadership diversity. Her consulting firm, Katzman Consulting, has worked with leading companies including Accenture, Bain Consulting, Goldman Sachs, MTV, PwC and Viacom. Melanie Katzman has been a senior fellow at the Wharton Business School, a faculty member at the University of London, and a visiting professor at Bocconi Business School in Milan, the Henley School of Management in England, and the Chinese University of Hong Kong.
The Main Idea
---
The business world has this wonderful illusion where you create an organizational chart or a team roster, specify deliverables and deadlines, and then almost by magic the work gets done. It sounds great but the reality is organizations and teams are run by people, and people run on emotions.
The business edict that emotions have no place in the office or the workplace is false. Achieving something significant in business is not a purely rational exercise. You need a professional way to connect with the people you're depending on to get the right things done.

In other words, emotions count. Connect first, and influence later. Acknowledge your human contributors and connect with them, and you stand a chance of influencing them. Connecting with people at an emotional level isn't rocket science. All it takes is complying with seven basic imperatives.
How to Ignite Success, Meaning, and Joy at Work
---
1. Establish respect. The basics of showing respect to other people pack an enormous punch, so make sure you perform them well. Do all the little things that show you're human, and that you don't take other people for granted.
2. Always engage all your senses. You can't rely on words alone to connect with people. They're too black and white. Instead, be with the people around you. Talk and experience things together. Watch for little hints that enrich connections.
3. Take charge and become likable. Social media means your private persona and your public persona need to match up. Take charge of your reputation. Make a difference by being your most likable self at all times and in all settings. Be self-aware.
4. Grow loyalty, the glue that bonds. You can't achieve your dreams alone. To get the most out of the people you work with, tap into what makes them tick. This is the glue that bonds great teams together and empowers people to do their best work.
5. Resolve conflicts and engage. Things happen, and conflicts arise. Just remember the deepest connections tend to get forged during the heat of the battle. Work through your differences and learn how to collaborate with anyone and everyone.
6. Fight fear by being a first-mover. The best way to fight fear is to be a first-mover. When you step outside your comfort zone and build bridges, you create some common ground that builds connections. Take the first step and things will often fall into place.
7. Increase your impact by making meaning. Once you've connected, you can then figure out good ways to leverage your platform. No matter what your position, there are always opportunities to create meaning and have a positive impact. Be enthusiastic and courageous.
Summaries.Com Editor's Comments
---
OK, let me just say right up front I hate touchy-feely stuff about emotions and all that stuff. It's about as interesting as watching synchronized swimming at the Olympics. Give me hard facts and figures and numbers in a spreadsheet. Let the whales fend for themselves. Save the tissues for the tree huggers. Yada, yada, yada.
That being said, it does make logical sense that emotions can drive productivity gains, and that connecting with the people you're relying on will mean more of the right things get done. Melanie Katzman really drives that point home in Connect First, a Wall Street Journal bestseller. I liked her suggestion that you should always try and connect first, and then influence later. Her seven-point formula seems like a common sense approach to doing this, and I did get some good ideas to follow up on.
This book was never in the running to make my personal list of all-time favorites, but it certainly does have some ideas worth thinking about. Don't ignore the emotional side of business. It can make or break a project. As Melanie Katzman notes: "Success, meaning, and joy are minted at the office in the interactions among people, by people just like you and me. We all have the power to significantly impact the future of work." Hmm. Maybe paying attention to the emotional side is not just for the tree huggers after all.