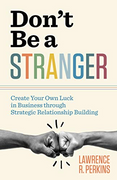 A 5 Minute Overview Of
Don't Be a Stranger
Create Your Own Luck in Business Through Strategic Relationship Building
About the Author
---
Lawrence Perkins is the founder and CEO of SierraConstellation Partners, a nationwide management consulting and advisory firm, which provides services to middle-market companies. He has more than 18 years experience in working with companies undergoing transitions. He was previously a senior managing director and regional leader of El Molino Advisors, which he also founded and led until it was acquired by SierraConstellation. He began his career working for Arthur Andersen after graduating from the school of business at the University of Southern California.
The Main Idea
---
For all the interesting inbound and outbound marketing you will ever do in your career, the one thing that will probably make your phone ring the most is hearing from people you've built a relationship and personal connection with. People always have and still prefer to do business with people they know and like.
Therefore, you can and should engage in vibrant, ongoing strategic relationship building. You'll be amazed at how frequently strategic serendipity will come into play once you've built your network. Be top of mind with the people you like, and they will reach out to you again and again with business opportunities that will fill your pipeline.
Make a commitment to create touchpoints with people in your network every week. Grow your network week by week and you're digging your well before you're thirsty.
Sections in this Books
---
1. Principle #1 — Keep it simple. Relationship building is not rocket science. Remember people like to buy from people they like and trust. Reach out to the people you know and stay in touch. It's easy.
2. Principle #2 — Don't be an empty suit. Make sure you're incredibly good at what you do. You don't want people to remember you as an empty suit who was incompetent. Give people solid reasons to remember you.
3. Principle #3 — Be intentional. If you're aiming to build relationships anyway, why not be intentional and do a great job of it? Becoming top of mind to more people means extending the life and career you have.
4. Principle #4 — Understand the business cycle. Touchpoints are helpful, but it's important that you move the new people you meet through the business cycle and reach a productive relationship. Use the cycle astutely.
5. Principle #5 — Move relationships forward. Building genuine strategic relationships requires that you relate to the people you're bonding with. Don't be pushy, and let things develop at their own pace. Be intentional.
6. Principle #6 — Offer and also ask for help. The best way to stand out, especially in a commodity market, is to form authentic, interesting and helpful relationships. Help people out and they will do business with you.
7. Principle #7 — Be patient. Never forget relationships take time to develop. Be patient, and continue to grow your strategic relationships, and trust that over the long haul good things will happen.
Key Takeaways
---
People always have, and always will, prefer to do business with people they know and like. Engage in vibrant strategic relationship building and you build your well before you're thirsty.
Create touchpoints every week for the people in your contact list. Follow up and look for ways to serve them as often as you can. That's the way to stay top of mind.
"Take small steps to make and keep connections. Craft touchpoints. Send them. Don't push; accept and enjoy light relationships with contentment. Follow up with people, and keep following up. Be a good human, be of service, and stay top of mind. Treat people well. If you can send a hundred touchpoints this month, do. If you can only send two, however, two is better than zero. I sent thirty touchpoints a week to start my business, but you may only decide to do five. Send those five, and if you forget one week, send ten the next. Consistency matters more than perfection. You can do this. So, do it."
Lawrence Perkins
Summaries.Com Editor's Comments
---
What's the worst thing that can happen to you in business? Having someone hack your email and send messages out to your entire contact list asking them to send money to China must rank up there reasonably highly, right? Well, this happened to an investment banker, when hackers sent emails to the 3,000-odd people on his contact list. But then something curious happened. He started getting messages from people he'd met years ago, who typically said: "Hey! It's been a long time since we chatted. Looks like you were hacked, but we should catch up. How are you doing?" More than thirty of these people who reconnected ended up having business opportunities which were perfect for his firm, and the investment banker ended up doing more than three-million-dollars worth of business with people he knew but had not kept in touch with. The investment banker later confided to a friend: "Gee, I wish my email would get hacked once a year. It's good for business!"
In Don't Be a Stranger, management consultant Lawrence Perkins makes the point you can and should reach out to the people you meet on a regular basis. He makes the argument that everyone should create "touchpoints" on a regular basis, where you connect with the people you met on a regular basis, and look for opportunities to serve them. He calls this strategic relationship building, but it's really just networking on steroids and with a bit of intentionality. You stay in touch so you stay top of mind, and then wait for serendipity to work its magic.
It makes good sense. It doesn't look hard. This book shows you how. Well worth reading and using these ideas.