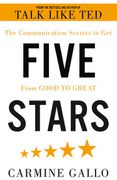 A 5 Minute Overview Of
Five Stars
The Communication Secrets to Get from Good to Great
About the Author
---
Carmine Gallo is a keynote speaker, communication adviser and the author of several business bestsellers including Talk Like TED,The Presentation Secrets of Steve Jobs and The Storyteller's Secret. He is the founder of his own consulting firm, Gallo Communications Group, which offers communications speech coaching to business leaders. He has worked with brands like Google, Accenture, Intel, Coca-Cola, Allstate and LinkedIn. He is also a contributing author for Forbes.com and Inc.com. Carmine Gallo is a graduate of Northwestern University and the University of California, Los Angeles.
The Main Idea
---
Ideas are the currency of the realm in the twenty-first century knowledge economy but ideas don't sell themselves. Not even cutting edge artificial intelligence can achieve that. To persuade people, you need to learn and apply the ancient art of persuasion – which is the ability to combine words and ideas in order to change hearts and minds.

Become skilled at persuasion and make human emotional connections and you can lift the influence of your ideas to "five-stars" status. That is, you can and will stand out and earn the highest possible ratings for your ideas. Even more importantly, you can and will motivate people to act on your ideas.