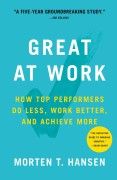 A 5 Minute Overview Of
Great at Work
How Top Performers Work Less and Achieve More
About the Author
---
Morten Hansen is a management professor at University of California, Berkeley and is also on the faculty at Apple University. He was formerly a professor at Harvard Business School and at INSEAD (France). He is the coauthor (along with Jim Collins) of Great By Choice and the author of Collaboration. Morten Hansen previously worked as a manager at the Boston Consulting Group where he advised clients worldwide. He is a graduate of Stanford Business School, the London School of Economics and Political Science, the Middlebury Institute of International Studies at Monterey and the University of Oslo.
The Main Idea
---
Why exactly are some people so much more productive when at work than others?
The cliche response has usually been: "They have learned to work smarter, not harder." That's okay but it stands to reason others are not deliberately trying to "work dumber".
To try and figure out why some people are so much more productive, an analysis was made of 200 academic papers on the subject. 120 experts in the field of human productivity were interviewed and a pilot study was carried out with 300 participants followed by further testing with another 5,000 people from various industries and backgrounds.
This evidence-based analysis identified 7 specific behaviors which cumulatively make up 66% of the difference in how people perform in the workplace. Those 7 behaviors are: