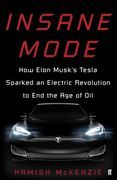 A 5 Minute Overview Of
Insane Mode
How Elon Musk's Tesla Sparked an Electric Revolution to End the Age of Oil
About the Author
---
Hamish McKenzie is a technical writer. He previously worked as a journalist and lead writer for Tesla communications, as a reporter for tech blog PandoDaily and as editorial advisor for Kik Interactive, Inc.. He has written numerous articles which have been published in The Guardian, Toronto Star, Time Out City Guides and TV Guide. He is also the co-founder of Substack, a newsletter publishing platform. Hamish McKenzie is a graduate of the University of Otago and the University of Western Ontario.
The Main Idea
---
Technical writer HAMISH McKENZIE chronicles the stunning rise of TESLA, the first new automaker to be established in the United States since Chrysler in 1925.
Led by the colorful and audacious Elon Musk, Tesla has single handedly shown that not only are electric vehicles viable but they are also inevitable as the way personal transportation will evolve in the future.
Tesla has come into the automotive industry as a complete outsider and succeeded in challenging the status quo. It is the first company to go against the might of Detroit and Big Oil and win. Tesla shows that the future is electric, not gasoline.