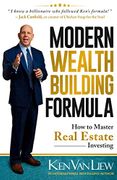 A 5 Minute Overview Of
Modern Wealth Building Formula
How to Master Real Estate Investing
About the Author
---
Ken Van Liew is a professional engineer, an educator, and CEO of Global Real Estate Development, a company which has completed more than $1.3 billion of investments in real estate development projects. After becoming a qualified civil engineer at age 27, Ken Van Liew's first development project was a $17 million assisted living facility, and a Staten Island waterfront development which was terminated due to the World Trade Center attack on 9-11. He then worked on three New York City high-rise developments which were funded by Lehman Brothers, and which were terminated when Lehman Brothers went out of business. Despite these early setbacks, Ken Van Liew has now engineered and constructed skyscrapers, and more than three hundred high-rise residential units in New York City. He also has several real estate teaching academies running. He is a graduate of New York University, New Jersey Institute of Technology, and Rutgers, The State University of New Jersey-New Brunswick.
The Main Idea
---
The traditional approach to real estate investing has always been buy-and-hold or some variation thereof — get your name on as much real estate as you can and then stay invested long-term while the market appreciates. That's a reliable strategy which is all well and good, but what if you can't even afford to get on the real estate ladder? And is buy-and-hold really the only way to make money with real estate?
It turns out there is a better way to get the benefits of investing in real estate. This is to utilize the "Modern Wealth Building Formula" which harnesses calculated risk, cash flow, performance, and accountability to maximum effect. This formula states the best way to benefit financially from real estate investment is:

How to Master Real Estate Investing
---
1. Why invest in real estate? The reality is investing in real estate is the best way to fund your retirement, change your quality of life, and build a strong foundation where money works for you and not the other way around. Simply put, the Formula is the most viable and stress-free option available to secure your future financial freedom.
2. The "Modern Matrix" of real estate investment. The traditional approach to real estate investment was you start with bird dogging, then you move to wholesaling, fixing-and-flipping, and finally start investing in multi-units/commercial buildings. That's changed. Today there are lots of different ways to earn money from investing in real estate. You just have to decide where on the matrix you want to be positioned.
3. The Modern Wealth Building Formula. Buy-and-hold has been superseded by the Modern Wealth Building Formula as the best way to make money in real estate today. The formula is:

4. Forget the myths of real estate investment. No matter what industry or profession you're in, there are always myths floating around which can stop the masses from being successful. Don't fall for them. There are at least fourteen myths and misconceptions which float around the concept of commercial real estate development. Debunk them, overcome them, and set yourself free.
Summaries.Com Editor's Comments
---
Real estate. I was really impressed to read about the studies that concluded over the past two centuries, 90 percent of the world's millionaires got there by investing in real estate. That's incredible, and it's part of the reason why we decided to summarize New York real estate guru Ken Van Liew's book, Modern Wealth Creating Formula.
There were a couple of things that really stood out in this book. One is Ken's suggestion that owning real estate is not the only way you can make money in this field. He also points out that as you get to know your stuff, you can generate revenue by offering services to other real estate investors. That's smart and is a very savvy way to get involved in real estate.
I also liked his observation that you don't have to work your way up the chain. Most people assume you start with residential, then do some multi-units, and ultimately graduate to commercial real estate deals. Ken Van Liew points out that is rubbish. His first deal was for a $17 million assisted living facility, and you can jump into real estate at whatever level you choose. That's kinda good to know.
Overall, a good book about real estate investing. One of my favorites, actually, at least until next week's book.