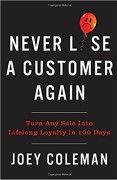 A 5 Minute Overview Of
Never Lose a Customer Again
Turn Any Sale Into Lifetime Loyalty in 100 Days
About the Author
---
Joey Coleman is a business consultant, keynote speaker and advisor. He specializes in helping organizations retain their best customers and turn them into raving fans. Joey Coleman is the founder and Chief Experience Composer of Design Symphony, a customer experience branding firm. Prior to that, he worked as a trial attorney for a law firm based in Iowa, in the White House Office of Counsel to the President during the Clinton Administration and as Associate Director of Member Services at The Corporate Executive Board. He is a graduate of the University of Notre Dame and The George Washington University Law School.
The Main Idea
---
To never lose a customer again, keep reminding yourself that ultimately you are selling a product or service to people which will be used by people. Therefore, the key to customer retention is to focus on the emotional journey or the customer experience your customers are going through. Successfully move them from one phase of the ideal customer experience to the next and they will stay with you indefinitely.

Build a remarkable customer experience and then figure out ways to deliver that experience consistently well and customers will stay with you for life.