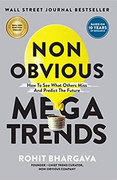 A 5 Minute Overview Of
Non Obvious Megatrends
How to See What Others Miss and Predict the Future
About the Author
---
Rohit Bhargava is the founder and chief trend curator for the Non-Obvious Company. He is also the founder of The Influential Marketing Group, and the author of six books. He specializes in understanding trends, marketing and the future. He has given keynote presentations at the World Bank, NASA, Intel, LinkedIn, Under Armor, Unavision, Disney, and many other corporations. Rahit Bhargava previously worked for 15 years leading the digital and innovation strategy units at Leo Burnett and Ogilvy, and as an adjunct professor at Georgetown University. He is a graduate of Goizueta Business School, Emory University, and George Mason University.
The Main Idea
---
There are ten powerful and non-obvious megatrends which will impact on the world of business over the next decade and beyond. Knowing of these trends is helpful, but if you can put these insights into action, you can join the disruptors instead of getting disrupted.
Those trends are: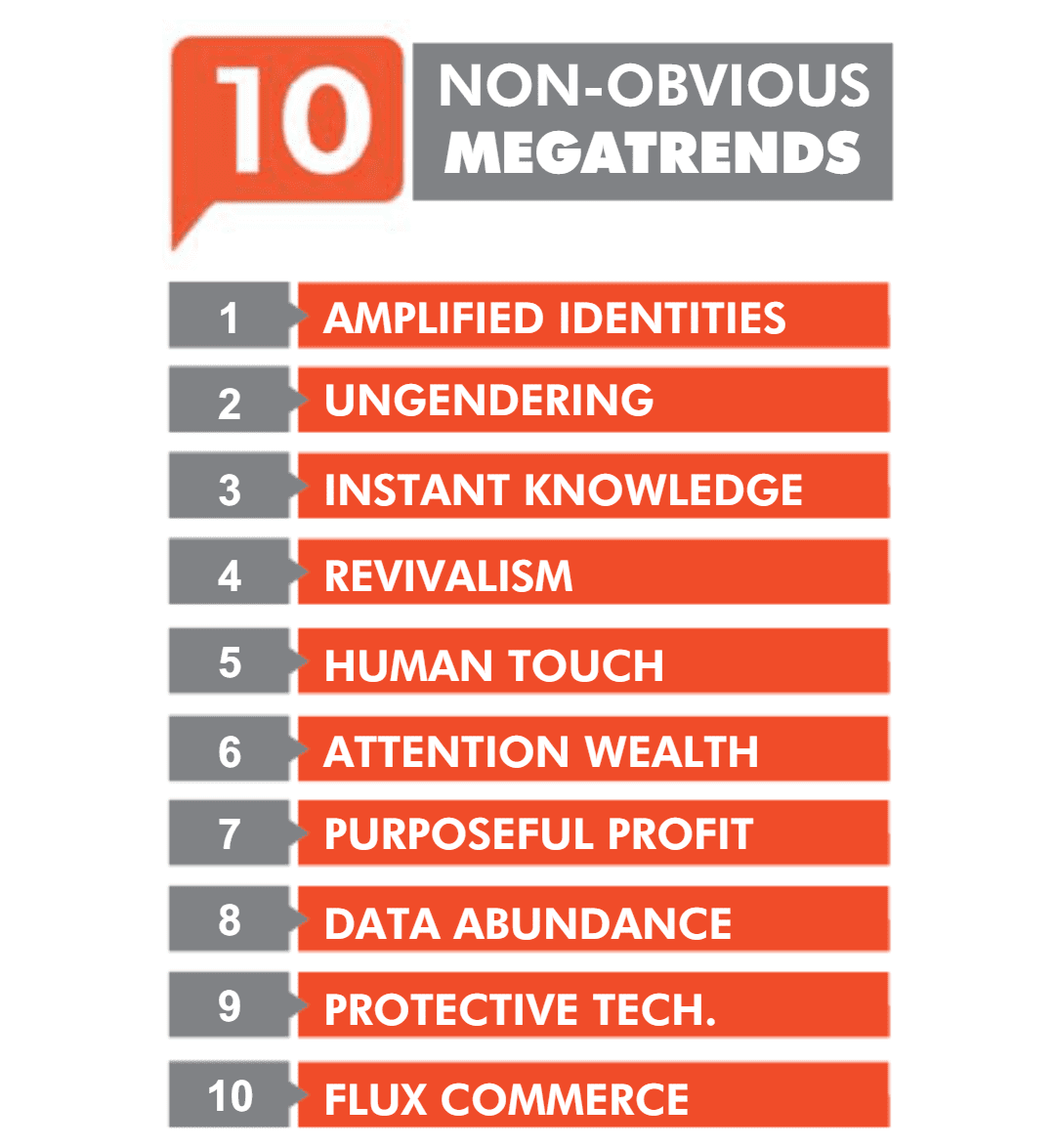 How to See What Others Miss and Predict the Future
---
THE BENEFITS OF NON-OBVIOUS THINKING. Non-obvious thinkers have a growth mindset and see what others miss.
TREND #1 — AMPLIFIED IDENTITIES. People will carefully cultivate how they are perceived online and offline.
TREND #2 — UNGENDERING. Traditional gender divisions and labels will be replaced by fluid identities.
TREND #3 — INSTANT KNOWLEDGE. People will consume bite-sized knowledge on-demand but ignore wisdom.
TREND #4 — REVIVALISM. People will seek out nostalgic experiences which remind of trustworthy times.
TREND #5 — HUMAN TOUCH. Authentic and "imperfect" experiences delivered by humans will be highly valued.
TREND #6 — ATTENTION WEALTH. Attention is highly valued, and people will trust those who communicate authentically.
TREND #7 — PURPOSEFUL PROFIT. Making a profit is fine, but customers will take a stand on putting purpose before profits.
TREND #8 — DATA ABUNDANCE. The more data that gets generated, the bigger the question becomes about who owns it.
TREND #9 — PROTECTIVE TECH. People will come to understand the trade-offs between predictive technology and privacy.
TREND #10 — FLUX COMMERCE. Consumers are becoming more agnostic about how anything gets bought and sold.
Summaries.Com Editor's Comments
---
I enjoyed reading Non Obvious Megatrends. It reminded me of the John Naisbitt classic book titled Megatrends. It's always fun to have a look at predictions and see how they pan out. Most of the time, the authors will highlight their predictions which ended up being right, and quietly let those which were wrong fade away in silence.
That being said, I agree with Rohit Bhargava's idea that "Trends are profits waiting to happen". You've got to think about the way the markets and the world is heading, and adjust accordingly. We all need to get good (or better) at being reactive rather than trying to hold back the changes. Isaac Asimov's mindset seems applicable: "I am not a speed reader. I am a speed understander".
As a passionate believer in the benefits of being a lifetime learner, Non Obvious Megatrends confirms the benefits of doing that. It has some good ideas on how to connect the dots so you can arrive at the future at the same time as your customers do. It's a good book to make you stop and think. I like that. Like Ferris Bueller pointed out: "Life moves pretty fast. If you don't stop and look around once in a while, you could miss it". Non Obvious Megatrends makes you step back and think about the world a little more expansively. That's gotta be good for you.