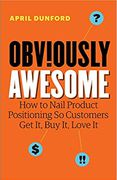 A 5 Minute Overview Of
Obviously Awesome
How to Nail Product Positioning So Customers Get It, Buy It, Love It.
About the Author
---
April Dunford is a marketing consultant, entrepreneur, board member and angel investor. She specializes in product positioning, market strategy and building sales teams. April Dunford has a 25-year career as a company executive in technology startups where she was responsible for launching 16 products. She has served as Entrepreneur in Residence at The DMZ, as Managing Partner/CEO at Sprint.ly, as COO at Tulip Retail and as Vice President Marketing (acting) for enterprise products at Huawei. April Dunford is a graduate of the University of Waterloo.
The Main Idea
---
None of the glamor stuff the marketing gurus rave about today — like growth hacking, chatbots, content marketing, video marketing, visual search and so on — works until you get your positioning right. You still need to have good positioning as a starting point for effective marketing.
Positioning is defined as "the act of deliberately defining how you are the best at something that a defined market cares a lot about". Get your positioning right and the rest of your marketing will flow. Get your positioning wrong and the effectiveness of everything else you do in marketing will diminish.
Even a world-class product will fail if it is positioned poorly or incorrectly. Before you try anything else, position yourself strongly and provide the right context for your offerings.
The Product Positioning Framework
---
What exactly is positioning? Positioning is the art of giving people context about your product and how it can benefit them. Context enables people to figure out what's important — sort of like the opening scenes in a move. The majority of products on the market today are exceptional only when you view and understand them within the right frame of reference. Positioning provides exactly that.
How to position yourself advantageously in 10 steps. To develop your own positioning statement, work through this sequential process: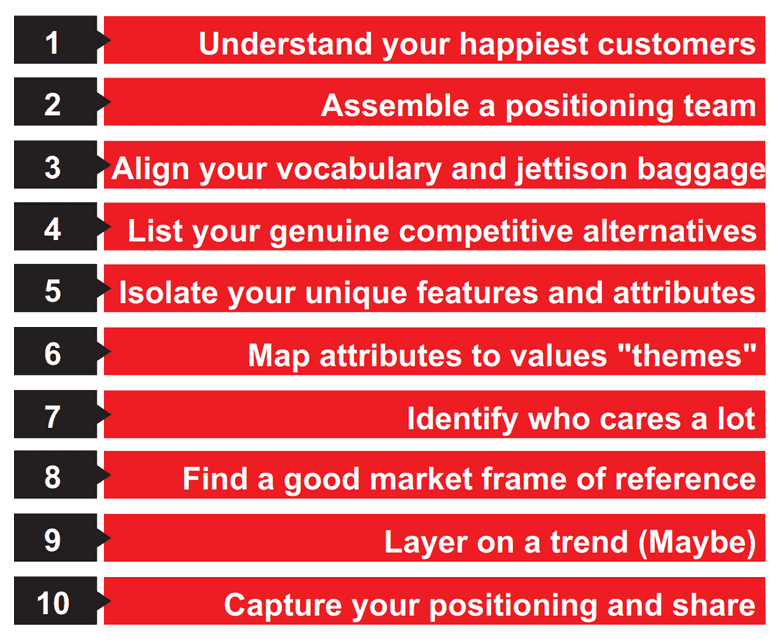 Putting positioning into play. Once you've decided on positioning, it's time to implement your positioning. This is generally a two-step process where you first craft a "sales story" that embodies your positioning and then create messaging that reflects your new positioning. The ultimate aim is to position yourself in a market that makes your strengths obvious to your best-fit customers. That's the ultimate positioning payoff.
Summaries.Com Editor's Comments
---
Awesome book. This takes the theory of Positioning, which was made famous by Al Ries and Jack Trout, and puts a workable and actionable framework around it. As the author states, nothing else works until you first get your product positioning right.
I particularly liked the concept of clearly identifying your best-fit customers and doing more of what they like. Lots of today's products look and act like "solutions looking for problems to solve" — which is backwards.
If you can find the customers who are raving about your product and talk to them, they may help you identify niche uses for your product or service that you've never though of but which represent huge growth opportunities. It's all a matter of providing the right context to make your offering shine.
A great book that deserves a read!