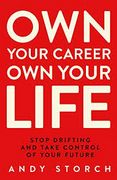 A 5 Minute Overview Of
Own Your Career, Own Your Life
Stop Drifting and Take Control of Your Future
About the Author
---
Andy Storch is a consultant, coach, speaker, facilitator, and connector. He is the host of two podcasts The Talent Development Hot Seat and The Andy Storch Show. He is also the founder and host of the Talent Development Think Tank Conference and Community. He has consulted with companies including Oracle, Google, Toyota, Genetech, Sony, and KPMG. He previously worked for Farmers Insurance, The Zenith, and We'll Sell It, Inc. Andy Storch is a graduate of the University of Southern California and the University of Florida.
The Main Idea
---
Great careers don't just happen by accident. You might get an initial lucky break or two, but at some point you've got to take charge and start driving your career in the direction you want to head. Take ownership of your career, and you control your future. Do that well, and you own your life.
To build a great career you can look back on with pride, there are three principles you have to apply:

The reality is nobody will care about your career more than you do. You can either sit back and let things happen by chance, or you can take ownership, get intentional, and blaze your own trail. The difference between these two approaches can make all the difference in the world.
How to Take Control of Your Future
---
1. Own your career. The best careers happen when you have a vision for who and what you want to become. If you can connect that vision to something that matters to you, all the better. Make a plan, set SMART goals, measure your progress, and then get help when you need it. These simple practices can make all the difference between a great career and a near miss.

2. Control your future. The one thing you can guarantee is that business, work, jobs, and the world will be different in the future. The best way to be prepared for whatever comes is to always be in action. Invest in continuous education, so your knowledge and skills do not get stagnant. Build your network, and deepen your relationships. Build your personal brand. Stay connected, and be flexible, and your career will flourish come what may.

3. Own your life. Stop doing things just because that's what everyone else is doing, and start heading in the direction that's meaningful to you. That's what it means to own your life. We only get one pass at this, so live with intention and achieve success, however you define it. Always be open to growth, to overcoming challenges, and to having a bias for action and you'll have a great career.

Key Takeaways
---
Great careers don't happen by accident. At some point, you've got to take the driver's wheel. Do it soon.
Take action to own your future. Be prepared for whatever happens.
Summaries.Com Editor's Comments
---
Own Your Career, Own Your Life is the first book published by corporate career consultant Andy Storch. He makes the point that great careers don't just happen by accident, and therefore you should proactively drive your career in the direction you genuinely want to head. I also like the point he makes that nobody will care about your career more than you do, so you shouldn't just let things happen by default. Take full responsibility, make a plan, and then start working your plan. Great advice.
I'm a big fan of continuous learning, and Andy Storch is an advocate of this as well. He makes the very valid point that things are changing more rapidly now than ever before, and many of the best careers of the future haven't even been created yet. The only way to position yourself to take advantage of the opportunities of the future is to always be learning learning, or in other words, to "sharpen the saw" every week or ideally every day. Couldn't agree more.
In words that will be familiar to every Star Trek fan, the future is an undiscovered country. If you work at owning your career now, you'll get all the "lucky" breaks in the future. Great advice. An interesting topic and a good book to read.