A 5 Minute Overview Of
Play Bigger
How Pirates, Dreamers, and Innovators Create and Dominate Markets
About the Authors
---
Al Ramadan is a co-founding partner at Play Bigger Advisors LLC, a business consulting firm which helps companies design, develop and dominate market categories. He is a technologist with experience in starting and then taking public companies which have pioneered new markets. Al Ramadan is a graduate of Stanford University Graduate School of Business.
Dave Peterson is also a co-founding partner at Play Bigger Advisors, LLC. He worked at software companies Vantive, Mercury Interactive, Aggregate Knowledge and Coverity as well as starting his own company. He is a graduate of the University of Northern Iowa.
Christopher Lochhead is also a co-founding partner at Play Bigger Advisors, LLC. He coaches CEOs and executive teams on category design and marketing. He previously worked at Scient, Vantive, Platinum Software and Mercury Interactive.
Kevin Maney is a columnist, commentator and advisor. He writes a weekly column for Newsweek and has written articles for USA Today, Fortune, Fast Company, WIred and more publications. He is the author of six books including The Two Second Advantage, Making the World Work Better and Trade-Off. He is a graduate of Rutgers University.
The Main Idea
---
Today's most exciting companies create categories. They sell us different — not just better. They solve a problem we didn't even know we had. This is the real genius of Amazon, Salesforce, Uber, IKEA and others. They are category kings.

These companies excel not by trying to be better than everyone else but by creating and then dominating their own market categories. Uber, for example, carved a new digital transportation category out of the huge analog marketplace for personal transportation made up of taxis, limos, rental cars, public transportation and driving yourself in your own car.
You can't build a legendary new company without first building a substantial new category in the marketplace. To play bigger, you have to position yourself as the leader in that category — because you're different — and then convince everyone that category is going to be a very big deal. You have to:
Develop a point of view — which explains why you exist and what you will do for the world.
Condition the market — help consumers understand which problem you solve for them.
Design an ecosystem — a community of supporters, partners, colleagues, evangelists.
Fire up a lightning strike — do something to shock the market and get attention.
Establish yourself and then keep expanding your category — build on your position and move outward and upward.
How to See What Others Miss and Predict the Future
---
1. Why category is the new strategy. Category kings create new categories of business based on entirely new ways of doing things. They don't try to sell better — they sell different. They introduce the world to a new category of product or service and thereby make what came before seem outdated, clunky, inefficient or painful. Legendary companies create new categories which generate a gravitational pull on the market.
2. The playbook for becoming a category king. To really excel in business today, you have to invent a whole new game to win by defining a new market category, developing it and then dominating it over time. Category design is a new discipline which has these seven steps: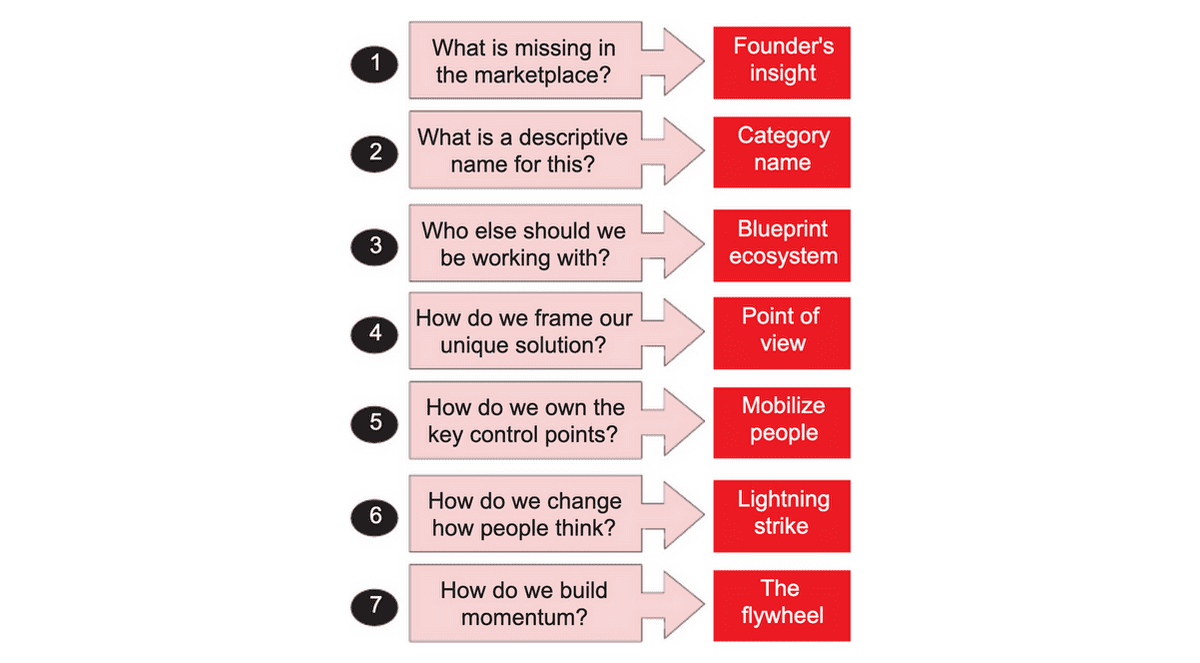 3. How category kings become business legends. The Holy Grail for business is to build a company which is a continuous category creation machine. If you can discover a category, work up a powerful POV, develop a blueprint, build an ecosystem, set up a lightning strike and get a flywheel spinning, the sky is the limit.