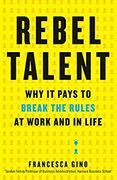 A 5 Minute Overview Of
Rebel Talent
Why It Pays to Break the Rules At Work and In Life
About the Author
---
Francesca Gino is professor of business administration at Harvard Business School where she teaches courses on decision making and negotiation. She is also a behavioral science researcher, business consultant and keynote speaker. She has worked with companies like Bacardi, Akamai, Disney, Goldman Sachs, Honeywell, Novataris, P&G and the United States Army, Navy and Air Force. Francesca Gino previously published the book Sidetracked and is a graduate of Harvard Business School.
The Main Idea
---
As strange as it may sound, the people who are doing the best work in their respective professional fields generally tend to be the rule breakers rather than followers of all the conventions. They are the rebels and the world is certainly a better and more interesting place because of them.
That's interesting because education in general teaches people to be rule followers from an early age. There's always pressure to fit in, to get good grades and to conform to the group standards and that pressure tends to grow the longer you stay in a field. That's unfortunate because conformity and mindless acceptance of rules stifles creativity.
If you really want to stand out at work and in life in general, break the rules. Break, transform, create. Apply a little constructive nonconformity. That's what it means to tap into your "Rebel Talent".