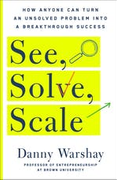 A 5 Minute Overview Of
See, Solve, Scale
How Anyone Can Turn an Unsolved Problem into a Breakthrough Success
About the Author
---
Danny Warshay is a professor at Brown University. For the past sixteen years, he has taught the See, Solve, Scale entrepreneurial process to more than 3,000 students at Yale, Tel Aviv University, and Brown University. To date, this course has spawned startups which have made their founders hundreds of millions of dollars, as well as being used to generate great solutions for numerous nonprofits which are tackling food waste, the deforestation of the Amazon, illiteracy, and the Middle East's transition away from having oil-dependent economies. Danny Warshay has co-founded and sold several companies in software, advanced materials, consumer products, and media, which have been acquired by Apple, Medline, Time, Belo Corporation, Sealed Air, Penton Media, and others. He is a graduate of Harvard Business School, Brown University, and the Hebrew University of Jerusalem.
The Main Idea
---
Entrepreneurs are not all swashbuckling heroes, unbound by the rules, who just go on the hunt for markets to storm and unicorns to find. Rather than being born with the right stuff, success as an entrepreneur comes from applying the correct structured entrepreneurial process, which is: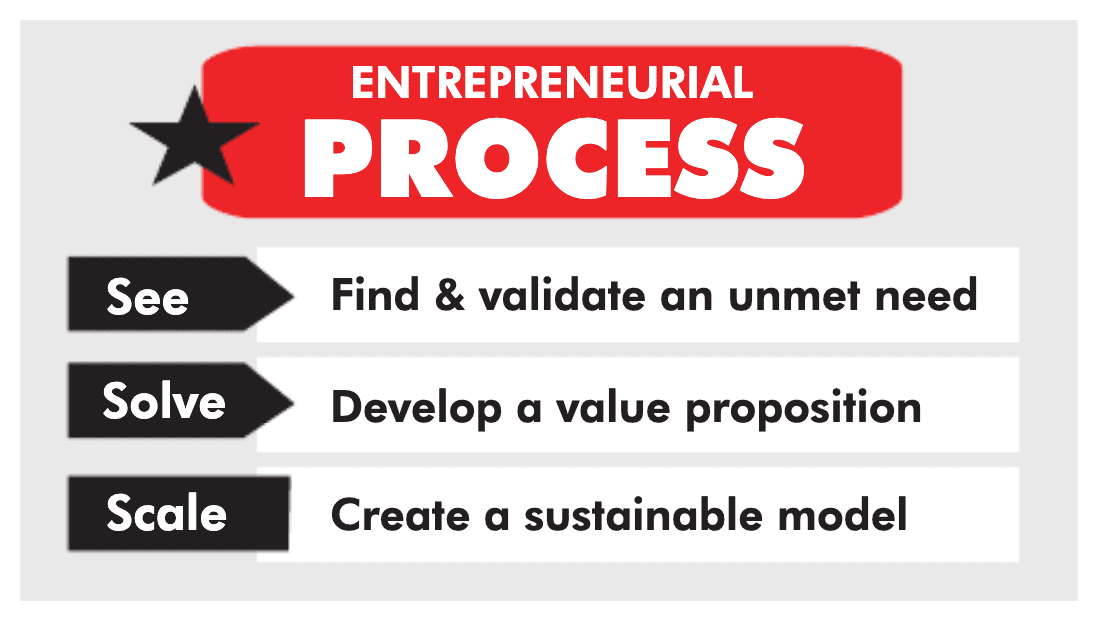 The reality is anyone can be an entrepreneur. You don't have to have a business background. You don't have to be born in the right country. You just have to be armed with the right tools, and know the right process to apply.
Sections in this Books
---
1. The entrepreneurial process. Being an entrepreneur is a process, not something you either have or don't have. There are a set of common principles and a series of steps which will increase the likelihood of success. Every entrepreneurial venture might be different, but they all have a beginning, middle and end: See, Solve, Scale.
2. See — Find and validate an unmet need. Most people start with top-down research — finding out how big an existing market or niche is, and then targeting it. Successful entrepreneurs do bottom-up research instead. They observe and listen to consumers and others in a supply chain, and identify a problem worth solving. They look for unmet, strong, and enduring needs.
3. Solve — Develop a value proposition. Once you've defined the problem you want to solve, you then pilot a solution on a small scale. Put another way, you develop a value proposition for a potential solution, with clear benefits you can explain and communicate. You also need to deliver these benefits in a way which is dramatically and clearly different from others who promise the same.
4. Scale — Create a sustainable model. Scale is where you start thinking big. Once you've defined the problem you want to solve (See), developed a robust and interesting value proposition for your solution (Solve), you then have to identify how to deliver that solution on a long-term and sustainable basis. Companies talk about a profitable business model to achieve that but if you're thinking big, being able to make long-term impact might matter more. How will you deliver?
Key Takeaways
---
Anyone can be an entrepreneur. It's not something you're born with. It's a process you can follow.
Summaries.Com Editor's Comments
---
While studying liberal arts at university, Ben Chesler was appalled to learn that while millions of people were starving, more than 40 percent of America's food supply ends up in landfills. Trying to figure out why, Ben went to a farm, and noticed there was a very large bin of food off to one side. "What's in that bin?" He got a response, "Oh, that's fruit that doesn't meet the standards for the grocery store". Ben decided that here was a problem to solve, so he asked if he could have that produce for free. "No", the farmer replied with a smile, "but we can sell it to you for a great price".
With that invite, Ben Chesler got to work building a company to sell this "ugly" produce, which he called Imperfect Foods. He found he could sell the food 30 percent cheaper than the grocery store. Even better, farmers would generate revenue from food they would otherwise have to pay to dispose of. Imperfect Produce was born as an online grocery store that delivered farm fresh yet "ugly" fruits and vegetables to your door for 30 percent less than the grocery store. The concept was very well received, and within three years Imperfect Foods would grow to have thirty distribution centers nationwide, more than one thousand employees, hundreds of thousands of customers who buy more than one hundred fifty million pounds of imperfect food every year, and growing. The company passed $100 million in annual revenue within three years of being founded .
What's interesting is Ben Chesler didn't actually set out to build a business — he was a liberal arts student at university, who saw a problem and decided to fix it. That's the power of the See, Solve, Scale entrepreneurial process taught by Danny Warshay in this book. He's taught it to more than 3,000 students at university, and now it's your turn to learn it. Great book. Hope you enjoy the summary.