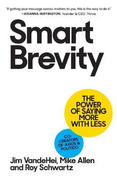 A 5 Minute Overview Of
Smart Brevity
The Power of Saying More with Less
About the Authors
---
Jim Vandehei , MIKE ALLEN, and ROY SCHWARTZ are the co-founders of media companies Axios and Politico. Jim Vandehei is CEO at Axios and Politico, and was previously the Congressional and White House reporter for The Washington Post.
Mike Allen serves as Executive Editor at Axios, and was previously Chief White House correspondent for Politico, and a reporter for TIME magazine, The Washington Post, the Richmond-Times Dispatch, and the Free Lance-Starr.
Roy Schwartz is President of Axios, and was previously a partner at The Gallup Organization and a Senior Project Specialist at MCI Worldcom.
The Main Idea
---
The business world of today is absolutely flooded with information. The best way to stand out is to use the "Smart Brevity" communication formula, which has been field tested and perfected for years by the journalists at corporate communications firm AxiosHQ.
The Smart Brevity template / formula is: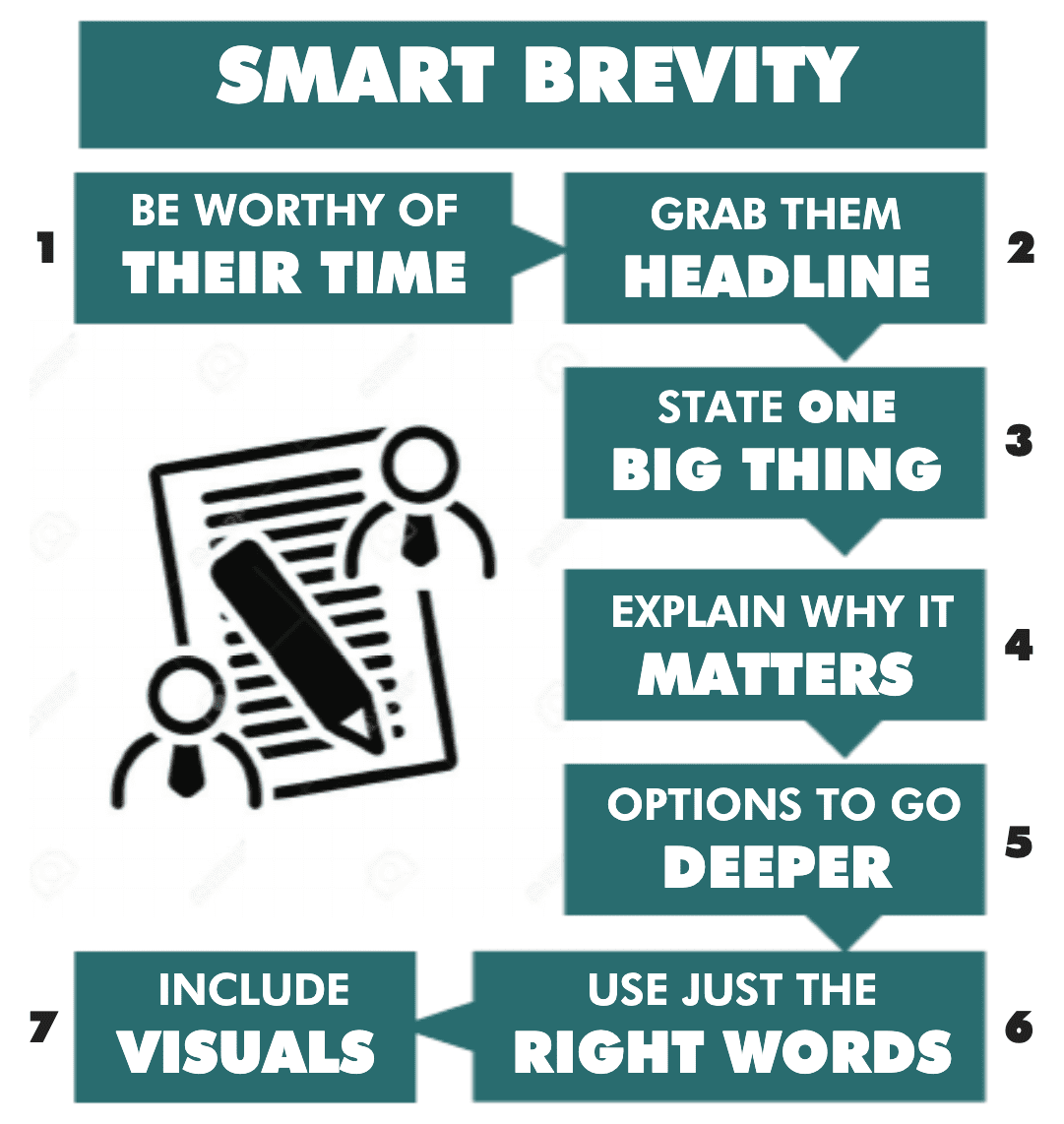 Sections in this Books
---
1. What is Smart Brevity? Smart Brevity is a better way to create, share, and consume information in the cluttered digital world. It's a formula for communication effectiveness.
2. How to do Smart Brevity. The basic Smart Brevity template is: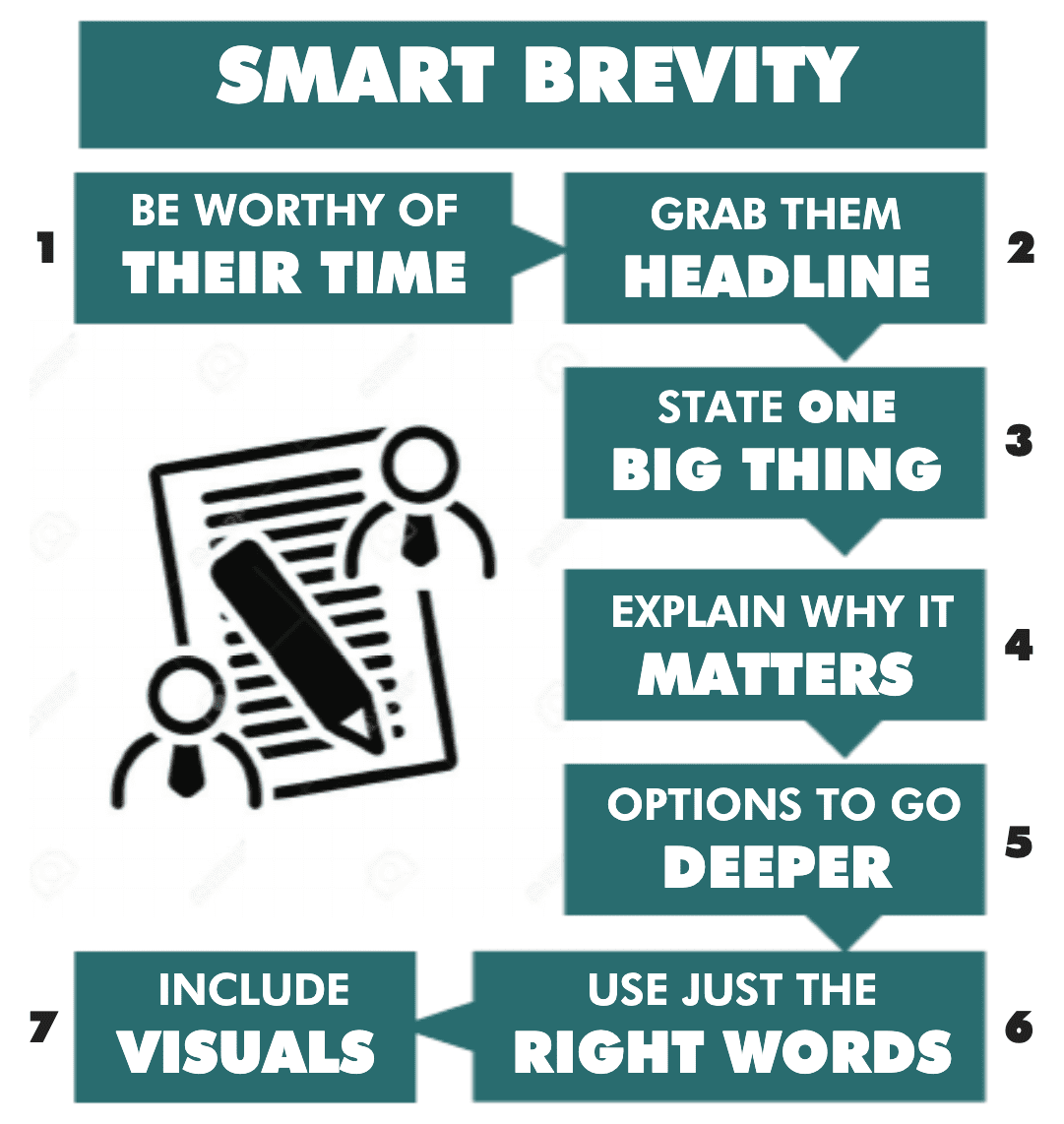 3. Smart Brevity in action. Smart Brevity can and should be used in all your communications, whatever the format. It can be used at work, in your speeches and meetings, in your emails and social media — everywhere. If you're looking to get ahead of the game, run your company on Smart Brevity. This is an all-inclusive way to communicate ideas and more.
Key Takeaways
---
When it comes to communication for business, less is more. Get to the point and finish.
Brevity is confidence, length is fear.
Summaries.Com Editor's Comments
---
I must admit I was strongly predisposed to like this week's book, and it did not disappoint. SMART BREVITY by Politico and Axios cofounders Jim Vandehei, Mike Allen, and Roy Schwartz is a great read. The central idea of this book is the world today is awash with information, and therefore the best way to stand out is to be succinct and concise about how you say things.
The reason I love this concept so much is it's also the ethos of Summaries.Com. You could describe our publications as smart brevity in action. We've always believed businesspeople want facts and ideas, not endless waffle. Smart Brevity introduces a communication formula for saying more with less. This formula is simple:
* Grab them with a headline on everything you write.
* Clearly state the ONE big idea you want the reader to get.
* Provide some context, and explain why it matters.
* Give options for people who want to know more to go deeper.
Love it. Great formula, and it has underpinned impressive growth and success for both Politico and AxiosHQ. I believe the authors are quite correct when they state: "You will learn to punch through the noise, be heard on what matters most, and win recognition for your most important ideas". Amen to that. Smart Brevity is the way to go. It's a better, smarter way to communicate.