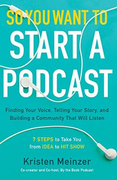 A 5 Minute Overview Of
So You Want to Start a Podcast
Finding Your Voice, Telling Your Story, and Building a Community That Will Listen
About the Author
---
Kristen Meinzer is a podcast host and producer for Slate's sister company, Panoply. She has hosted several podcasts including Sticher's By the Book, CNN's Decades of Movies, and WNYC's Movie Date, with more than ten million listeners. Kristen Meinzer has also produced award-winning podcasts including Happier with Gretchen Rubin and Movie Therapy. Her work has been featured in Time magazine, Forbes, Buzzfeed, and the Washington Post who named her as "one of the 22 most influential women in podcasting". She is a graduate of City University of New York - Brooklyn College, New York University, and the University of Minnesota.
The Main Idea
---
So you want to start a podcast? There are seven steps involved to doing this well:
Seven Steps to Find Your Voice, Tell Your Story and Build Your Community
---
1. Step #1 — DREAM IT — Know why you're podcasting. Starting a podcast because "everyone else is doing it" is not a good enough reason. Clarify what your show will be about first, and how much love you have to give.
2. Step #2 — WRITE IT — Create your ideal podcast format. Podcasts can take an infinite number of formats. Decide on a format that makes sense for you, and start scripting what's going to happen. Start with a strong podcast title.
3. Step #3 — HOST IT — Decide on your dream host lineup. Figure out who will host your podcast, and whether a co-host will add some desirable dynamics. Above all else have hosts who use their natural voices, and don't try to imitate.
4. Step #4 — CAST IT — Get the guests your podcast needs. Guests can add some real zing to your podcast. Make it easy for the right people to agree to appear by becoming a first-rate producer yourself. Know what you're doing here.
5. Step #5 — MAKE IT — Have the right equipment. Know the equipment you will actually need, not what suppliers are trying to sell you. Understand how to use music and clips to add polish to your podcast.
6. Step #6 — SHARE IT — Create your release schedule. Make it feasible for people to become fans by having your podcast programmed well in advance. That way you can create catchy episode titles, great show art, and much more.
7. Step #7 — GROW IT — Build your podcast listeners. Once you have a podcast, promote it in savvy ways. Get the word out by building a community of listeners. Embrace your identity as a podcaster and thrive.
Key Takeaways
---
The key to succeeding with a podcast is to make it about something "that makes your heart sing", that you will obsess over until you make it a success. Find your why, and pretty much everything else will follow if you're prepared to do the work that's required.
To really excel with a podcast, you have to be an outstanding storyteller. Podcasting is not just relaying information, or even having a chat with a friend. Good podcasts move their listeners, in their heart and in their minds. To achieve that, you need a story that will take your listeners on an emotional journey. Do that, and your podcast will soar.
Summaries.Com Editor's Comments
---
I really enjoyed reading this book. Kristen Meinzer is highly experienced in the field, having hosted and produced several podcasts which have more than ten million listeners. She definitely knows what she's speaking about, and her seven step plan for starting a podcast is well thought out and practical. Podcasts are such a growth industry at the present time, and the opportunities to start and grow a podcast are pretty much limitless.
I definitely liked her point: "Learning to use the podcasting gadgets is the easy part. The hard part is everything else: figuring out why you and the world need your show, telling your story in a way that's authentic to you, and making sure your message is delivered in a beautiful and compelling way." Podcasting is a great way to tell your story.
Smart author. Loved what she's saying here. I must admit it has inspired me to start a podcast based around the concept that today, you have to be a lifetime learner to excel in business. In fact, just one idea from the right business book might be worth a million dollars to you, maybe more. I might even call it, "The Million Dollar Idea Podcast", Powered by Summaries.Com. Watch this space.