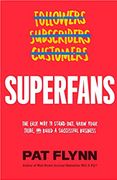 A 5 Minute Overview Of
Superfans
The Easy Way to Stand Out, Grow Your Tribe, and Build a Successful Business
About the Author
---
Pat Flynn is a podcaster, author, and the founder of several websites. He is best known for his Smart Passive Income blog, which has been featured in Forbes, the New York Times and many other publications. His Smart Passive Income podcast has been ranked as high as #3 for business podcasts in iTunes. Pat Flynn's first online business was GreenExamAcademy.com, which offers publications designed to help people pass the LEED exam in the architecture industry. Pat Flynn is a graduate of the University of California, Berkeley.
The Main Idea
---
The name of the game in business today is to create "superfans" — highly engaged customers who will go out of their way to buy and use everything you create. If you can create a tribe of superfans around the world, you future-proof your business.
It's common to assume that superfans only exist for musicians, sports teams, and celebrities, but the reality is pretty much every business can create energized superfans. You just have to create a migration path for customers to move from being casual to active, active to connected, and then connected to superfans.
How to Create Superfans
---
Phase 1 - Casual Customers to Active Customers. Your casual audience is the largest segment of your customer base. These are people who buy your product or service at least once because of the value you provide. Your goal with this group is to create a trigger which signals they are in the right place, that there's something special for them, and that they should become part of your active audience — so casuals come back and do more business in the future.
Phase 2 - Active Customers to Connected Customers. Your active audience know who you are, and what you offer. Every time you create something new, they pause and make a decision whether or not to buy. They like your stuff — which is a great start — but they need convincing to act. Your goal with your active audience is to help them become part of your connected community.
Phase 3 - Connected Customers to Superfans. Customers in your connected community hear from you regularly, and also have conversations with each other. Community members start identifying with your mission, and generate the bulk of your comments, feedback, and survey results. These people love what you're doing, and will validate new ideas which will help your business excel and grow. Your goal with your connected community is to fan the flames of their interest so they voluntarily make the transition to superfans.
Summaries.Com Editor's Comments
---
I first heard of Pat Flynn when I came across his website, SmartPassiveIncome.com. There, he describes himself as a "crash test dummy" for online marketing schemes. What really distinguished him, however, was his level of transparency. Every month, he publishes a detailed and itemized profit-and-loss statement that sets out exactly where he makes money and how much, down to the last penny. If you want to know whether or not something works, he can tell you by experience, calculated to two decimal places. I respect that.
In "Superfans", Pat codifies how you go about creating a following of highly engaged customers. I liked his three phase approach; it makes a lot of sense to me. He also gives great practical advice that any small business owner and just about every entrepreneur can put into action. This is a book full of real-world ideas that work.
There's always something appealing about hearing from someone who walks the talk. Pat Flynn certainly meets that criteria. All in all, I think this is a great book for the current business environment where social media is ever present.
At Summaries.Com, we plan on using many of the ideas from this book to find better ways to add value for our subscribers and friends. Superfans has a great blueprint to follow.