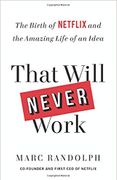 A 5 Minute Overview Of
That Will Never Work
The Birth of Netflix and the Amazing Life of an Idea
About the Author
---
Marc Randolph is the co-founder of Netflix. He served as the company's first CEO, as the executive producer of Netflix's website, and as a member of the company's board of directors. Marc Randolph has founded or co-founded a number of other successful startups including Looker Data which was recently sold to Google for $2.6 billion . He is also an early-stage investor in a number of other tech ventures. He serves on the boards of several companies including Getable, OpenEd.io, Rafter and Readyforce. Marc Randolph is a graduate of Hamilton College.
Sections in this Books
---
Summaries.Com has a 30 minute summary of this book, which is available to premium subscribers. Here is the first paragraph of each section in the 30 minute summary.
1. The spark.
2. Movies-by-mail takes shape.
3. Launch day.
4. A promising start.
5. The dream team.
6. The formula.
7. Scaling up.

Introduction
Here is the contents of section 1 out of 7 from the 30 minute summary available to Summaries.com premium subscribers.
---
Marc Randolph first met Reed Hastings in 1996. Hastings was running a company called Pure Atria which acquired a startup called Integrity QA which Randolph had cofounded. After the acquisition, Marc Randolph was appointed as VP of corporate marketing for Pure Atria. Since Reed Hastings lived just a few minutes from Marc Randolph's house, they used to car pool to work together.
In early 1997, Pure Atria was in the process of finalizing a merger which would put both of them out of their jobs so on their drive, Reed and Marc would discuss ideas for startups. Marc wanted to start his own company and he valued the feedback he got from Reed so they went through a whole lot of out-of-the-box ideas. Customized baseball bats. Personalized shampoo. Hand-made surfboards. Dog food individually formulated for dogs. Marc Randolph pitched Reed Hastings lots and lots of ideas on that daily commute.
One day as they were driving along, Marc Randolph mentioned that to get his three-year-old daughter back to sleep in the middle of the night, he had watched Aladdin with her. That gave him his next great idea to pitch Reed Hastings on.
Buoyed by that spark of interest, Marc Randolph walked into his office and wrote VHS ONLINE STORE at the top of a whiteboard. He had two assistants who were also facing redundancy when the proposed merger went ahead so this team of three started doing research on what it would take to set up an online video rental company. Their initial research suggested the addition of postage or courier charges to send a VHS tape out and then return it would mean an online store would have serious disadvantages to brick-and-mortar competitors like Blockbuster or Hollywood Video. To confirm that, Randolph mentioned his movies-by-mail idea to his wife who said: "That will never work."
Then, in the summer of 1997, the first consumer DVD players went on sale in the United States. In March 1997, Warner Bros. released thirty-two movies on DVD. This was relevant to the movies-by-mail idea because DVDs were the same size as a compact disc — and therefore small enough and light enough to fit into a standard business envelope, which could be mailed anywhere in the country for nothing more than a 32-cent stamp.
To test whether a DVD would get damaged in the mail, Marc Randolph purchased a music CD from a store and mailed it to Reed Hastings' house in Santa Cruz, California. The CD was dutifully delivered unharmed a day later, which was validation the idea could work, It wasn't until months later that Marc Randolph found out the local post office was an outlier in that all mail was sorted there by hand, and that DVDs sent further afield would need far more sturdier protection than a standard envelope.
Having decided the DVD-by-mail idea was worth pursuing, Reed and Randolph came up with a $3 million valuation for their new company, which they would structure as 6 million shares, each worth 50-cents.. They figured it would take about $2 million to get the company off the ground so Reed Hastings agreed to put in the money in exchange for another four million shares. So by the time Netflix was formed, Hastings had 70 percent of the company's shares in exchange for contributing $2 million and Marc Randolph had a 30 percent shareholding.
As it turned out, Reed Hastings didn't end up putting $2 million into Netflix. He decided he wanted to check other people thought the idea had merit as well, so he decided he would contribute $1.9 million in seed capital as long as Marc Randolph could raise $100,000 from other people. That proved to be very hard work, but in the end Randolph managed to get more investors to put in $100,000. His last investor was his mother who agreed to contribute $25,000.
Summaries.Com Editor's Comments
---
I love a good business biography, and the story of the early days of Netflix had lots of interesting things happening in the background. I particularly liked the candid admission that co-founder Marc Randolph's wife had said: "That will never work" when she first heard about the idea of starting an online video rental store. Anyone who has ever started a business will tell you that dealing with the naysayers is part and parcel of being involved in a start-up.
I also must admit I did not really know Marc Randolph was a co-founder of Netflix. I always assumed Reed Hastings was the sole founder. This book sets that record straight. The other really interesting thought that came through in this book is the phrase coined by Hollywood scriptwriter William Goldman who memorably said, "Nobody knows anything". You can never assume what customers will like or dislike. You have to test and find out for yourself.
Great story with lots of drama, strong personalities who speak their mind, and talented people who pulled off something amazing. I loved the part where the first Netflix website was up for all of 15 minutes before it crashed. We all have to start somewhere. There could be a movie in this one. Can Netflix make a movie about itself?