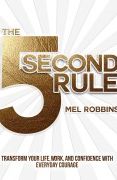 A One-Page Summary Of
The 5 Second Rule
Transform Your Life, Work, and Confidence With Everyday Courage
The Main Idea
The 5 Second Rule is a powerful personal motivation tool. It simply and succinctly states: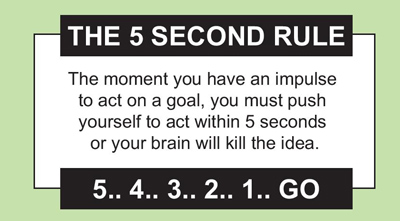 The 5 Second Rule works because it is what psychologists term a metacognition tool. It can be used to "trick" your brain into doing the things you know you should be doing but normally don't get around to doing. You can use it to pack more action into your life and career.
The stark reality is there is generally just a 5 second window of opportunity between having a great thought about something productive you should do and your brain starting to come up with excuses for why you cannot do that. That's the time when you have to step up and take action or your doubts will crowd out that desire forevermore.
Change your life and your career for the better five seconds at a time.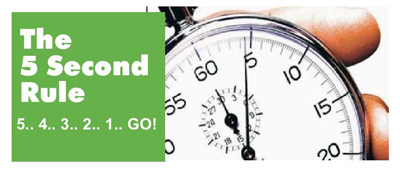 About the Author
Mel Robbins is a motivational speaker, business coach and highly successful on-air commentator. Her TEDx talk on "How to Stop Screwing Yourself Over" has been viewed more than 10 million times. She started her career as a criminal defense attorney before launching her own retail and Internet technology company. Mel Robbins now leads multi-year coaching programs for Johnson & Johnson, Bear Stearns and Partners Healthcare. She also hosts award winning shows for Fox, A&E, Cox Media Group and most recently CNN. She is the author of Stop Saying You're Fine which is a business bestseller. Mel Robbins is a graduate of Dartmouth College and Boston College Law School.