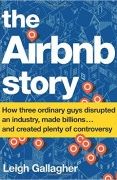 A 5 Minute Overview Of
The Airbnb Story
How Three Ordinary Guys Disrupted an Industry, Made Billions … and Created Plenty of Controversy
About the Author
---
Leigh Gallagher is an assistant managing editor at Fortune where she writes and edits feature stories. She is also the host of Fortune Live,Fortune.com's weekly video show. Leigh Gallagher is a co-chair of the Fortune Most Powerful Women Summit and also oversees Fortune's 40 Under 40 multi-platform editorial franchise. She appears regularly as a business news commentator on many TV shows including CBS's This Morning and Face the Nation, public radio's Marketplace, MSNBC's Morning Joe, CNBC and CNN. She is the author of two books including The End of the Suburbs and is a visiting scholar at New York University. She is a graduate of Cornell University.
The Main Idea
---
In 2004, Brian Chesky and Joe Gebbia met when they were assigned to work together on a student project at the Rhode Island School of design. They found they enjoyed working together and decided to try and find an idea they could use to launch a company. Three years later, Chesky and Gebbia linked up in San Francisco and were short of cash to pay the rent for their apartment. They decided to rent out three airbeds in their apartment to designers like themselves who they knew would be coming to San Francisco for a design conference.
Energized by their inital success, Chesky and Gebbia decided to team up with Nathan Blecharczky, a friend who was a recent Harvard graduate and a coder, to launch a web-based service they initially called Airbed & Breakfast. They ended up lauching their business three times and using some novel fund raising ideas before they attracted investor backing, shortened the name to Airbnb.com and started to gain traction. The three founders also had to pivot their business anumerous times before they settled on the business model Airbnb uses now.
Today, Airbnb is a juggernaut of the Internet business era and is still growing rapidly year-to-year. The company (still private) is highly controversial but it is currently valued at more than $31 billion. The three founders are still closely involved in managing and running the company and the founders are worth more than $3 billion each.
This is their story.