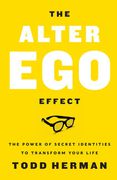 A 5 Minute Overview Of
The Alter Ego Effect
The Power of Secret Identities to Transform Your Life
About the Author
---
Herman Todd is a high-performance coach. He works with athletes, entrepreneurs and leaders who are looking for a mental edge to achieve impressively audacious goals. Some of Todd's clients have gone on to gain medals at Olympic Games, build multi-million-dollar companies and establish international brands. Todd Herman has owned and run his own sports training company for more than twenty years. His signature high-performance system, The 90 Day Year, has twice been named the world's top leadership and skill development program. He is a graduate of the University of Alberta.
The Main Idea
---
Superman had it right. He would walk into a phone booth as Clark Kent and emerge as the Man of Steel. Then, after the danger was passed, he would go back to his everyday life as a mild-mannered reporter.
It turns out the best-of-the-best in professional sports often do something similar. Many of them leave themselves on the sideline and step onto the field of play with an "Alter Ego" — a secret identity they act out, or a persona that helps them unleash everything they have with confidence and poise.

It now emerges this is not just something that works in sport. Ambitious people doing hard things in the business arena can do something similar. Developing and activating an Alter Ego can help you perform at maximum effectiveness in your career.