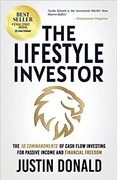 A 5 Minute Overview Of
The Lifestyle Investor
The 10 Commandments of Cash Flow Investing for Passive Income and Financial Freedom
About the Author
---
Justin Donald is an entrepreneur, consultant, and lifestyle investor. He worked for 10 years as Principal/Owner of real estate investment company MHP Equity Group , as co-founder of rehab specialists IFM Restoration, and as division manager for Vector Marketing. His trademark lifestyle investing strategies have earned many accolades, with Entrepreneur magazine describing him as the "Warren Buffett of Lifestyle Investing". Justin Donald has invested heavily in real estate and successful operating companies, and he hosts the Lifestyle Investor podcast. He is a graduate of the University of Illinois Urbana-Champaign.
The Main Idea
---
When you invest in mutual funds or the stockmarket, you are effectively giving companies the use of your money interest-free, in the hope that the value of your investments will rise in the future.
That's one way to invest, but another is to put together an investment portfolio that generates enough passive income cash flow right now to fund all your lifestyle needs. In a nutshell, that's lifestyle investing (LI).

The great thing about lifestyle investing is you decide what that lifestyle looks like for you. In practice, most people tend to go through three stages of lifestyle investing:
Stage 1: Cover your bare minimum expenses Stage 2: Fund your current lifestyle Stage 3: Live the lifestyle of your dreams
The great thing is how and when you move through these stages is up to you. Lifestyle investing is all about getting to stage 3 so you can design your life to be what you want it to be on your terms.
The 10 Commandments of the Lifestyle Investor
---
The Lifestyle Investing (LI) methodology and core principles. Lifestyle Investing focuses on having an investment portfolio which generates immediate cash to fund the lifestyle of your choice. You make passive investments which provide some amount of cash flow immediately.
LI Commandment #1 — Always think lifestyle first. Invest to generate passive income which will not require your time to work.
LI Commandment #2 — Always find ways to reduce risk. Structure all your deals to minimize risk and maximize returns simulatenously.
LI Commandment #3 — Watch for the invisible deals. Look at emerging markets and unconventional opportunities for interesting investments.
LI Commandment #4 — Get your principal back quickly. Invest so you get your principal back quickly — within a year or two.
LI Commandment #5 — Create immediate cash flow. The more cash flow you create now, the more it will support your lifestyle and other deals.
LI Commandment #6 — Find income amplifiers. Always try to negotiate sidecar agreements which amplify your profit potential.
LI Commandment #7 — Always look to plus the deal. Optimize your deals to lower your risks, generate greater returns, and add value.
LI Commandment #8 — Cut out the fat on investments. Eliminate unnecessary fees — to middlemen, banks, or others.
LI Commandment #9 — Use leverage advantageously. Try and negotiate non-recourse loans, although at times working with banks helps.
LI Commandment #10 — Make every dollar work for you. If you hire professionals to support you, always ask questions to educate yourself.
Key Takeaways
---
Lifestyle Investing is having an investment portfolio which generates immediate cash flow to fund your lifestyle. It can be done.
There are literally thousands of ways to structure investments. Always negotiate immediate cash flow, rather than waiting for some unspecified future time. Be obsessed with cash flow now, not market value in the future.
Summaries.Com Editor's Comments
---
Interesting book this week. Lifestyle investing specialist Justin Donald points out that when it comes to making investment deals, everything is negotiable. He makes investments to generate enough passive income that it makes working at a job optional. His "lifestyle investing" strategy breaks this down into three logical stages — you start by generating enough passive income to meet your minimum expenses (stage 1), grow that to enough passive income to fund your current lifestyle (stage 2), and then ultimately to have enough passive income to fund the lifestyle of your dreams (stage 3).
Lifestyle investing is a different way of thinking about making investments. Justin Donald talks a lot about structuring investments so you get immediate cash flow. His ideal investments return his principal within a few years, and then keep generating returns for ever more after that. That makes your investments risk-free and cash flow positive. His favored investment vehicles are to purchase mobile home parks, multi-family housing syndications, hard money loans, and newly legalized hemp and recreational drug companies. He also points out you won't get ahead with standard agreements, but will need to negotiate better terms.
I like his aim to fund your lifestyle first and foremost with the investments you make. It can be done, and he has some great suggestions on the nuts and bolts of making it happen. Lifestyle investing — it can be done. Interesting ideas and strategies.