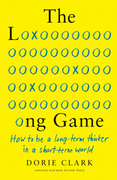 A 5 Minute Overview Of
The Long Game
How to Be a Long-Term Thinker in a Short-Term World
About the Author
---
Dorie Clark has coached hundreds of top business executives and entrepreneurs. She teaches executive education at Duke University's School of Business, and at Columbia Business School. She also consults on strategy with clients like Google, Microsoft, Morgan Stanley, Fidelity, and the World Bank. Dorie Clark is a Harvard Business Review and Fast Company contributor, a former presidential campaign spokesperson, and the author of four books including Stand Out and Reinventing You. She is a graduate of Harvard Divinity School and Smith College.
The Main Idea
---
Long-term thinking — eschewing immediate, short-term results in order to work towards worthwhile future goals — is pretty rare today. That's what makes it so valuable. It isn't easy. However, if you can learn to play the long game, you stand a better chance of achieving meaningful and lasting success rather than scoring quick, easy and ultimately shallow trophies.

To win the long game and become a long-term thinker, you have to do three things well:

Long-term thinking gives you the ability to be nimble and flexible because it keeps you moving towards your most important goals. It undergirds worthwhile strategic pivots, and maximizes your chances of success. Sometimes it takes courage to be a long-term thinker, but the results are well worth it. Be a long-term thinker and prosper.
Sections in this Books
---
1. Create white space. It's impossible to become a long-time thinker if you are too busy and frenzied to have any time to think and plan. To start playing the long game better, you have to clear the decks first, and create some white space where you can break out of a short-term mindset on a regular basis. Achieve that by understanding the real reasons why you're so busy now, and create room on your calendar by getting better at saying "No".
2. Focus where it counts. This is the engine room of long-term thinking. To become an effective long-term thinker: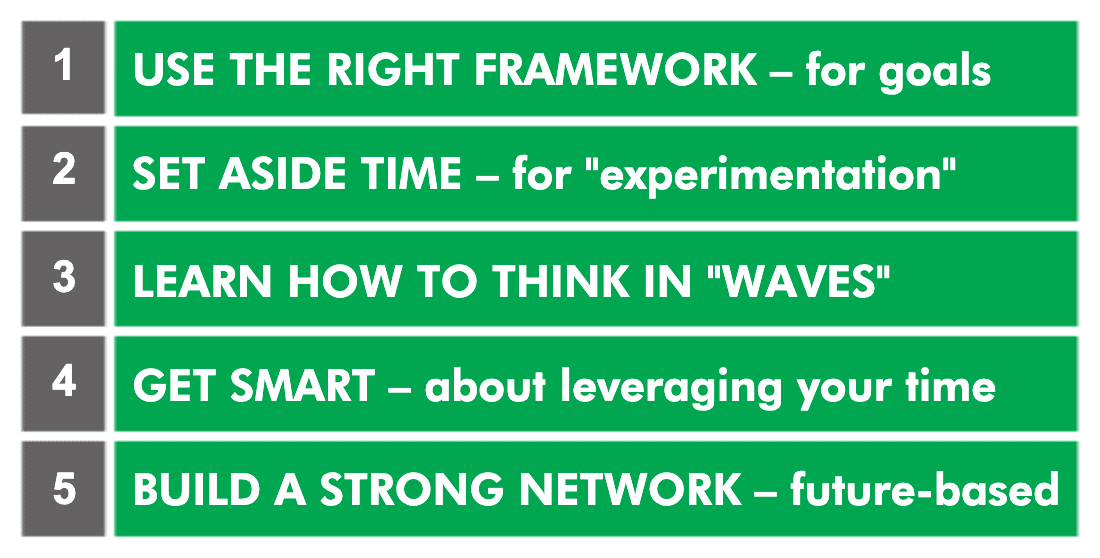 3. Have strategic patience. "Keeping the faith" is probably the hardest part about playing the long game. Simply put, you have to keep moving forward despite setbacks and challenges. The best way to do that is to be patient whenever you hit a plateau, and keep reminding yourself that as long as you're learning, you're never actually failing. Long-term thinkers know that failure and experimentation always go hand-in-hand, and use that advantageously.
Key Takeaways
---
Long-term thinking -- foregoing immediate results in favor of long-term gains -- is rare today. That's what makes it so valuable. If you can become a long-term thinker, you can gain a meaningful competitive advantage.
If you're constantly judging your career on the basis of short-term achievements, all you end up with is a series of quick, easy, and ultimately shallow trophies. You end up feeling rushed, overwhelmed, and jaded. To break out of this cycle, play the long game.
Summaries.Com Editor's Comments
---
Everyone loves talking about business breakthroughs and generating 10X returns, but the "dirty little secret" that gets brushed under the rug is these kinds of results always take time, much more time than you might realize. That's the premise of THE LONG GAME written by leading business coach Dorie Clark. She does a great job explaining why long-term thinking works. The payoff when you have the courage to think long-term can be impressive.
For example, Silicon Valley innovation guru Jonathan Brill points out that many companies today invest in "feature innovation" where they test superficial innovations like "What color button performs best?" At best, that can lead to marginal improvements, but if you focus on that you may miss out on meaningful innovations which have the power to transform companies and industries. That always takes time.
"It takes typically five or six years for a product or a business to get to scale," Jonathan says. There's a ramp-up period to see if things are working, to adjust, and to optimize. For a long time, even some of the best innovations can look like sinkholes where money goes to die. But once they're established, you've built a powerful competitive moat. Ultimately, he says, "What you're looking for is profit. That happens on the decade scale. That doesn't happen on the quarterly scale."
To really get in on the big breakthroughs of the future, become a long-term thinker. As Dorie Clark points out: "The payoff can be enormous".