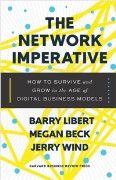 A 5 Minute Overview Of
The Network Imperative
How to Survive and Grow in the Age of Digital Business Models
About the Authors
---
Barry Libert is chairman and CEO of OpenMatters, a data science company which analyzes business models. He is also a senior fellow at Wharton's SEI Center, a think tank for management education. He serves on the boards of several companies and has been a strategic adviser to AT&T, Microsoft, GE Healthcare, ESPN and Goldman Sachs. He is also an early stage investor in digital start-ups, some of which manage digital networks for more than three hundred brands. He is a graduate of Tufts University and Columbia Business School.
Megan Beck is chief insights officer at OpenMatters. She leads the company's research, publication and curriculum initiatives. She formerly worked as a consultant at Bain & Company and specializes in digital.
Jerry Wind undefined
The Main Idea
---
There is no longer any question digital networks are fundamentally changing the business landscape. Digital networks are changing what we do, how we do it and who gets rewarded all over the place.
This isn't just a tech phenomena. Companies which take advantage of scalable digital networks are now starting to flourish in every industry you can name. Companies like Amazon, Google, Uber and Airbnb are attracting huge levels of investment, all the top talent and impressive numbers of new customers.
The performance gap between those who do harness digital networks and those who do not is widening. The real question in business today is no longer whether you need to change, but when and how much.