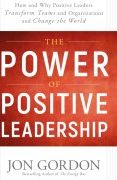 A 5 Minute Overview Of
The Power of Positive Leadership
How and Why Positive Leaders Transform Teams and Organizations and Change the World
About the Author
---
Jon Gordon is a speaker, bestselling author and president of his own consulting company, The Jon Gordon Companies. He is the author of several books including The No Complaining Rule, You Win in the Locker Room First, Training Camp and The Energy Bus. His clients include The Los Angeles Dodgers, the Atlanta Falcons, Campbell Soup, Dell, Southwest Airlines, LA Clippers, Miami Heat, BB&T Bank, JP Morgan Chase, Clemson Football, Northwestern Mutual, Bayer, West Point Academy and many other professional sports teams, Fortune 500 companies, and non-profits. His books have also been featured on The Today Show, CNN, CNBC and in newspapers and magazines like Forbes, Fast Company, O Magazine, The Wall Street Journal and The New York Times. Jon Gordon is a graduate of Cornell University and Emory University.
The Main Idea
---
All of history's greatest leaders have been optimists, believers, dreamers and doers who push past the problems and make great things happen. The reality is to change the world, create a world-class organization or bring together a successful team, you must have a positive outlook.

If you aspire to achieve anything great in your career, learn how to become and act like a positive leader. Research shows quite definitively positive leaders energize their workplaces, help their teams and companies perform at a higher level and attract better talent.
This is more than merely having a positive state of mind and refusing to see the problems. To put positive leadership into action, there are nine principles you have to apply: