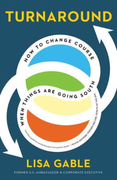 A 5 Minute Overview Of
Turnaround
How to Change Course When Things Are Going South
About the Author
---
Lisa Gable is a former U.S. ambassador, United Nations delegate, and CEO of several organizations. She has orchestrated the successful turnarounds of a number of private and public entities across a number of industry sectors. She was a senior advisor at PepsiCo, president of the Healthy Weight Foundation, and currently serves as CEO of FARE, a public organization fighting food allergies. She previously was a founding principal of The Brand Group where she advised companies like Apple, Gap Inc., Intel, Oracle, and others. Lisa Gable is a graduate of Georgetown University and the University of Virginia.
The Main Idea
---
How do you turn around a failing project, team, or even an organization?
An effective approach to driving a successful turnaround blends diplomacy and discipline together. It involves four steps: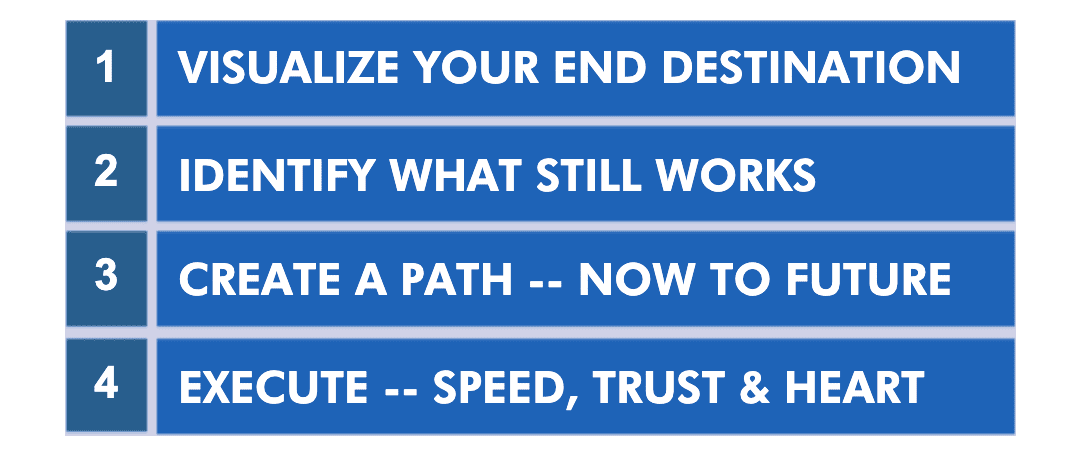 The Turnaround Method
---
1. The Turnaround Method. The turnaround method balances the discipline of process engineering with diplomacy. Process engineering is all about designing work flows so they operate at their best, but you also need diplomacy to succeed in a turnaround. You need a results-driven yet diplomatic management philosophy.
2. Step 1 — Visualize your end destination. Focusing on your present problems is not usually the best way to launch a turnaround. Start imaging where you want to end up in the future, and use that to generate energy for your turnaround. Then design a path to this new vision that benefits everyone.
3. Step 2 — Identify what still works. Conduct an audit of your assets to break down the past. Decide whether each piece will or will not help you accomplish Jobs 1, 2 and 3, and whether those assets position you for the future you envision. Conduct a thorough audit with compassion and humility.
4. Step 3 — Create a path — now to future. Map out the critical decisions and actions needed to reach your target. Decide how you will use your assets to gets Jobs 1, 2 and 3 done. Create your ideal path to go from where you are now to where you need to be in the future.
5. Step 4 — Execute — Speed, trust & heart. The best way to run a turnaround is to execute with speed, confidence, and heart. You want to set aggressive goals, and then get everyone energized to go after those goals. You also want to partner with those who will add more horsepower and energy to your turnaround. You've got a workable plan, and you now want people to run with it.
Key Takeaways
---
The best way to turn anything around is to use both diplomacy and discipline blended together.
Leading change is always hard, but the rewards of succeeding with a turnaround are worth it.
Summaries.Com Editor's Comments
---
Turnarounds was a really interesting book to read this week. Lisa Gable is a former U.S. ambassador and United Nations delegate, so she is well qualified to understand the role of diplomacy. She also worked closely with the founders of Intel, where she gained hands-on experience with the advantages of process engineering. Her turnaround approach blends diplomacy and process engineering together into a four-step approach which makes sense logically, and has been road tested successfully in the real world.
There's something about being a turnaround guru which appeals. To be able to take a company or an organization which is on a downward spiral and give it a bright future is a headline act in the business world. There have been several high profile turnaround specialists over the years like Al Dunlap who have generated boatloads of publicity. It's a hard role to sustain for an extended period, though, as it's easy to go off on side-roads that lead to disaster. Also, over time, turnarounds tend to become exercises in rapid headcount reduction and little more.
Even if you're never called on to do a headline-grabbing turnaround, the principles here are worth knowing for smaller scale readjustments of teams and projects trajectories. Those are skills that will get used much more frequently. Great book.