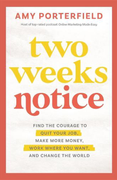 A 5 Minute Overview Of
Two Weeks Notice
Find the Courage to Quit Your Job, Make More Money, Work Where You Want, and Change the World
About the Author
---
Amy Porterfield is an online marketing guru, podcaster, and CEO of a multimillion-dollar business. She previously worked as Facebook Community Manager for Social Media Examiner, Director of Content Development for Tony Robbins, and as Marketing Coordinator for Ventura Harley-Davidson Motorcycles. She regularly consults with A-List marketing experts, and is a graduate of UC Santa Barbara. Her podcast is title: Online Marketing Made Easy.
The Main Idea
---
It's time to scratch that entrepreneurial itch. It's time to give two weeks notice on that nine-to-five job that's boring you to tears, and build your own online empire where you call the shots — especially if you're a woman.
The great thing about the online world is it's the only workplace where there is true gender equality. Women can literally earn as much (or more) than men with their own business. That definitely is not the case in the rest of the corporate world, where women on average get paid 82 cents on the dollar or less than their male colleagues.
If you're sick of having a boss tell you what you can and cannot do, and you genuinely want to make a difference and call your own shots, start an online business. Follow the plan. Take action. Make a bigger impact and more money than you can imagine. Do things the right way from the get-go and you can achieve greatness. Give your two weeks notice and get started today.
Sections in this Books
---
1. Make the break. It's decision time. Do you want to start calling the shots, and turn your dreams into reality, or do you want to keep working in a cubicle for another twenty years? Take the plunge, scratch that itch, and specify the date on which you will give your notice Declare your exit date and build a runway for your dreams.
2. Know your why. Brainstorm what you're great at, and develop your online business starter idea based around that. Clarify the type of customer you aspire to serve, even if that means missing out on everyone else. Dial in your "You" factor.
3. Build your tribe. Figure out how you will send out regular content that will appeal to the people you want to serve. Then once you start attracting your tribe, keep the lines of communication open. Above all else, be authentic and real. Wear your heart on your sleeve.
4. Generate revenue. Once you have your tribe, you then figure out how to make money while serving them. Clarify the revenue-generation strategy you feel most comfortable with, and make it happen. You also have to make sure you don't fall into any of the boss traps.
Key Takeaways
---
It's time to scratch that entrepreneurial itch. The time has never been better to start an online business, especially for women. Give two weeks notice and take the plunge.
Start your own business and call the shots. Turn glass ceilings into floors on which to stand and grow.
Summaries.Com Editor's Comments
---
Yesterday was "International Women's Day". In recognition of that, this week's book TWO WEEKS NOTICE by podcaster and online marketing guru Amy Porterfield is perfectly timed. She notes that in the real world, women still get cents on the dollar compared to what men earn. Her solution is to encourage more women to quite their jobs (give two week's notice), and become their own bosses by starting an online business. She points out that in the digital workplace, there is absolute gender equality. Women can, and frequently do, earn more with their own online businesses than their male counterparts.
More than just encouraging this to happen, Amy Porterfield has put together a guidebook that sets out the exact steps you need to follow to make that happen. She says this is the book she searched for without success when she started her own business, which she has now grown into a multimillion-dollar enterprise. That gives her impressive credibility and self-confidence, which definitely comes through in this book.
I also liked the fact Amy points out mistakes are inevitable, and they are all part of the learning process. That makes good sense in my opinion. The key to moving forward is to leverage the lessons you learn along the way, and use them to grow. TWO WEEKS NOTICE is a manifesto for women to get ahead by starting to call their own shots. Love the message. I hope more women (and some men too) read the book, get inspired to take the plunge, give their two weeks notice, and get started on the entrepreneurial path. As Amy Porterfield notes: "ou are needed by your audience. You have lives to change. You have people to serve. Your impact is needed in this world. Never quit on your dreams. All you've got to do is go out there and make it happen, boss!"