A One-Page Summary Of
Warren Buffett's Ground Rules
Words of Wisdom from the Partnership Letters of the World's Greatest Investor
The Main Idea
At the age of 26, Warren Buffett returned from Columbia Business School (where he had studied with value-investing guru Benjamin Graham) and founded Buffett Partnership Limited, his first professional investing partnership. That partnership would operate for fourteen years from 1956 to 1970 during which time Warren Buffett achieved an incredible record of investing success. In 1968 alone, he beat the Dow by more than 50 percent.
In order to make sure his partners understood his investment methodology and thought processes, Warren Buffett wrote up seven ground rules for his new partnership. He also wrote semi-annual letters (33 in all) to his small group of partners to explain how he was applying those ground rules on an ongoing basis.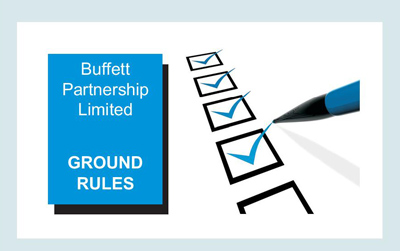 What's interesting about these ground rules is when Warren Buffett liquidated Buffett Partnership Ltd. and moved on to becoming chairman of Berkshire Hathaway, he continued to apply the same ground rules albeit to a much larger pool of capital. They have been described as Warren Buffett's take on Investing 101.
These ground rules are still the guidelines he uses as the world's most successful investor. They are the bedrock of his success and are the rules every investor needs today. Warren Buffet's ground rules epitomize the mindset every aspiring investor should have.
About the Author
Jeremy Miller is an investment analyst with J.P. Morgan Asset Management. He has worked for more than fifteen years in the financial services industry holding positions at several firms including Vertical Research Partners, Nomura, Bank of America and Credit Suisse First Boston. Jeremy Miller is a graduate of Oberlin College.