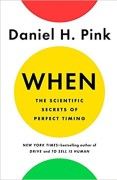 A 5 Minute Overview Of
When
The Scientific Secrets of Perfect Timing
About the Author
---
Daniel Pink is an author and broadcaster. He has written several business books about work, management and behavioral science including To Sell is Human, Drive and Free Agent Nation. He was also host and co-executive producer of the series Crowd Control which aired on the National Geographic Channel. He has worked as an aide to Secretary of Labor Robert Reich, as chief speech writer for Vice President Al Gore, as a contributing editor at Fast Company and Wired and as a business columnist for The Sunday Telegraph. Daniel Pink's TED talk on motivation is one of the 10 most-watched TED talks of all time. He is a graduate of Northwestern University and Yale Law School.
The Main Idea
---
The cliche has always been "timing is everything" but research now shows quite definitively timing is a science. When you make a decision may ultimately turn out to have much more impact on the results than you anticipate.

To consistently and systematically work smarter and better, the three things you need to know about timing are.