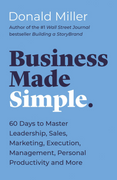 A 5 Minute Overview Of
Business Made Simple
60 Days to Master Leadership, Sales, Marketing, Execution, Management, Personal Productivity and More
About the Author
---
Donald Miller is CEO of StoryBrand, a business communications company which has helped more than fifty thousand companies clarify their marketing messages. He's also the CEO of Business Made Simple University, a business training company. He is the author of eight books including the bestsellers Building a StoryBrand and Marketing Made Simple. Donald Miller hosts the Business Made Simple podcast, and has consulted with brands like Berkshire Hathaway, Intel, Chick-fil-a, and Steelcase. He was educated at Reed College.
The Main Idea
---
What does it take to get promoted? Having an MBA from a prestigious university used to be the ticket to success, but today you're more likely to get promoted if you offer tangible added value to your employer. You have to show you're a value-driven professional to get promoted and get ahead.

Specifically, there are ten competencies you need to show you already have in order to stand out. If you can definitively show you're adding value to your organization, then it stands to reason they will give you a raise and ultimately a promotion.
Going back to school is good, but an equally viable approach is to undertake a 60-day training program where you systematically work at acquiring these skills in-house for yourself. Mastering these lessons in the context of your own business can even be more valuable than learning what worked for others years ago in business school.
Invest 60 days in your business education. Master the ten competencies of value-driven professionals, and you can dramatically increase your personal value on the open market.
60 Day, 10 Competencies
---
1. Competency #1 — You have to know how a business really works. Concentrate on understanding activity-to-output ratios and the need for positive cash flow.
2. Competency #2 — You need to be a clear & compelling leader. Know how to align and inspire teams with mission statements and principles.
3. Competency #3 — You must be personally productive. Learn how to get the most done in the least amount of time, while also making sure you do the right things.
4. Competency #4 — You must understand business strategy and messaging. Understand the components of a business, and you can make good strategic choices. Keep it simple.
5. Competency #5 — You need to understand how to build a marketing campaign. Create a marketing sales funnel so you can reach out to prospects again and again, until they buy.
6. Competency #6 — You must be a great communicator. To be a great communicator, answer the five questions in everyone's mind creatively and memorably.
7. Competency #7 — You need to know how to sell. Selling is always a sequential process. Make your future customer the hero of your stories.
8. Competency #8 — You need to become highly skilled at negotiation. When negotiating, don't wing it, or follow your gut. Have a proven process you trust.
9. Competency #9 — You must be a good people manager. Be able to analyze the skills and talents of your team, and design a winning plan around that team.
10. Competency #10 — You need to know how to get things done. Great companies and professionals have an execution system. They don't leave things to chance.
Key Takeaways
---
Invest in your business self-education. Master the ten competencies of the best value-driven professionals.
Skills acquired on-the-job rather than in a classroom can add more value to your career than learning what worked for others years ago in a business school.
"This is the secret to success. If you want to succeed in work, love, friendship, and life, give the people around you a great return on whatever it is they invest in you. In a competitive environment, every company is looking for a team member that is a good economic investment. The truth is, if you master the ten core competencies of a value-driven professional—you will dramatically increase your personal worth on the open market. You will also become deadly at your job. Nobody will beat you."
-- Donald Miller
Summaries.Com Editor's Comments
---
Business Made Simple is a great book for anyone looking to get a broad view on what it takes to build and run a business. StoryBrand CEO and business communications guru Donald Miller makes the point that a formal credential like an MBA used to be essential for getting promotions in a big company, but today companies are far more likely to promote those that clearly add value, regardless of their qualifications. With this in mind, Donald Miller suggests everyone should understand and work to develop the 10 competencies of value-driven professionals.
This book is essentially a 60-day curriculum to understand and develop those competencies. You undertake a different activity each day as part of a structured business education. If you do this, you should progressively increase the value of your personal brand, both inside your company and on the open market. I like the overall approach, and the general structure suggested in Business Made Simple. It all makes sense. As Jim Rohn famously said: "Formal education will make you a living; self-education will make you a fortune".
Benjamin Franklin once advised: "The best investment is in the tools of one's own trade." In today's business world, ongoing on-the-job learning is the way to get ahead. Business Made Simple provides a structured way to do that. We like it at Summaries.Com.