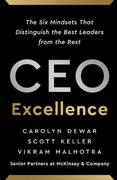 A 5 Minute Overview Of
CEO Excellence
The Six Mindsets That Distinguish the Best Leaders from the Rest
About the Authors
---
Carolyn Dewar is a senior partner in McKinsey & Company's San Francisco office. She joined the firm in 2000, and advises Fortune 100 CEOs on how to maximize their effectiveness. She has published more than thirty articles in the business press, and specializes in the role of the CEO. She is a graduate of the University of St. Andrews in Scotland.
Scott Kellar is a senior partner in McKinsey's Southern California office. He joined McKinsey in 1995, and is a mechanical engineer by training. He is the author or coauthor of five books, including Beyond Performance. Scott Kellar has published more than fifty articles on leadership and organizational effectiveness.
Vikram Malhotra is a senior partner at McKinsey's New York office, where he consults with CEOs and boards on strategy, effectiveness, and operational improvements. He served on McKinsey's board of directors from 2004 to 2017, has served as McKinsey's Managing Partner of the Americas, and chairs McKinsey's Professional Standards Committee. Vikram Malhotra is a graduate of the Wharton School of the University of Pennsylvania, and the London School of Economics.
The Main Idea
---
What makes a CEO great?
To figure this out, McKinsey & Co. analyzed 20 years of data on 7,800 CEOs from 3,500 of the largest public and private companies across 70 countries and 24 industries. They then factored in tenure, performance results, and corporate conduct to identify the 200 top-performing CEOs of the twenty-first century. Of that number, 65 were interviewed in-person.

The end result of all that analysis was it became clear the best CEOs think differently from average CEOs. Specifically, exceptional CEOs assume personal responsibility for six key responsibilities: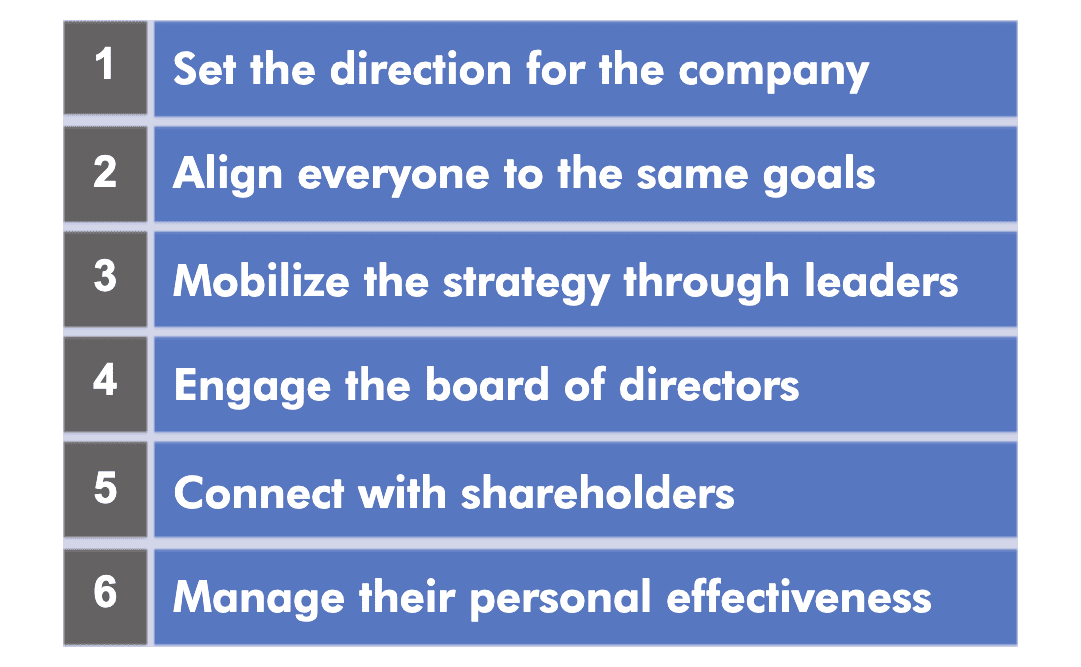 CEOs have the mindset that all six of these responsibilities are theirs, and they need to make them happen. In doing so, the best CEOs pull way ahead of their competition. They keep all six plates spinning at all times, even when market conditions dictate some need to be spun faster or slower than the others. It's the mix that counts.
6 Mindsets of the Best CEOs
---
Mindset #1 — DIRECTION-SETTING — Be bold. Great CEOs embrace uncertainty, and realize fortune favors the bold. They actively try and shape their organization's future by applying boldness to their vision, strategy, and resource allocation.
Mindset #2 — ALIGNMENT — Treat the soft stuff as hard. The best CEOs treat the soft stuff — people and culture — as the hard stuff. They know the soft stuff is hard to get right, and take radically different approaches when dealing with people.
Mindset #3 — MOBILIZE — Solve for the team's psychology. Great CEOs form and lead an effective management team. They focus less on what the team does together and more on how the team works together. They obsess over the psychology of their team.
Mindset #4 — ENGAGE — Help directors help the business. The best CEOs are proactive in helping build a board with the right skills, and then using the board to help run the business. They make it easy for directors to add value to the business.
Mindset #5 — CONNECTION — Start with "Why?". Great CEOs connect with all their stakeholders. They do this by asking "Why are we relevant to our stakeholders?" Excellent CEOs dig deep to understand the motivations. hopes and fears of stakeholders.
Mindset #6 — EFFECTIVENESS — Do what only you can. The best CEOs excel at prioritizing, and doing only what they can do. They prioritize the most critical issues, focus on what they need to do, and delegate any remaining tasks.
Key Takeaways
---
Great CEOs think differently. They assume responsibility for making the right things happen.
The most successful CEOs are shapers of their own fate, and that of their companies. They act boldly.
Summaries.Com Editor's Comments
---
What do great CEOs do differently? To figure this out, three senior partners at McKinsey & Company analyzed the data. They looked at 20 years of results from 3,500 of the largest public and private companies in the world. After factoring in tenure, performance results, and corporate conduct for the 7,800 CEOs from that period, they identified the 200 top-performing CEOs, and interviewed 65 of them in-person. The end result of all that analysis was the researchers concluded the best CEOs think and act differently. Specifically, exceptional CEOs have the six mindsets set out in this book,and accept resonsibility for these six areas:
1. They are bold, and set the direction for their company.
2. They work to get everyone aligned, and treat the soft stuff as hard.
3. They mobilize their strategy through their leadership.
4. They engage their directors, and help them help the company.
5. They connect with shareholders, and start with "Why?"
6. They are effective, and do what only they can.
Interesting book. Great ideas. If you aspire to become a great CEO, this is the book for you.