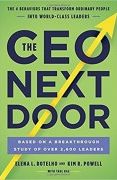 A 5 Minute Overview Of
The CEO Next Door
The 4 Behaviors That Transform Ordinary People into World-Class Leaders
About the Authors
---
Elena Botelho is a partner at ghSMART, a business consulting company specializing in business leadership. Elena Botelho has advised more than 200 CEOs and boards over nearly two decades. She started as a strategy consultant at McKinsey & Co. after graduating with an MBA from Wharton and an undergraduate degree from the University of Pennsylvania.
Kim Powell is a leadership advisor and principal at ghSMART. She is a graduate of the University of Notre Dame and the Kellogg School of Management. She consults with Fortune 500 CEOS and major private equity business leaders. She previously worked as a consultant, principal and senior knowledge expert at the Boston Consulting Group and as an accountant with Anderson Worldwide.
The Main Idea
---
In 2014, PwC carried out a study which showed hiring the wrong CEO costs shareholders more than $112 billion in lost market value every year. With that in mind, the question can be asked: "What makes a great CEO and is there a viable road map to become one?"
To answer that question, 17,000 leadership assessments were carried out and analyzed to ultimately come up the "CEO Genome" – the four behaviors which can be shown to be statistically associated with success as a CEO.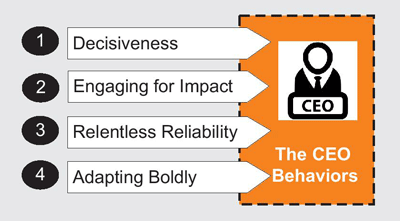 So what's the road map to becoming a great CEO? It really has just three steps: