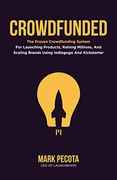 A 5 Minute Overview Of
Crowdfunded
The Proven Crowdfunding System for Launching Products, Raising Millions, and Scaling Brands Using Indiegogo and Kickstarter
About the Author
---
Mark Pecota is CEO and co-founder of LaunchBoom, a crowdfunding consulting and marketing agency. Launchboom has managed the crowdfunding process for thousands of entrepreneurs who have raised more than $50 million through Kickstarter and Indiegogo. He was previously education chair with Junto Global, chief operating officer at Label Creative, and a digital marketing intern with eBoost Consulting. Mark Pecota is a graduate of San Diego State University and Universidad Autonoma de Barcelona.
The Main Idea
---
The best way to use crowdfunding — raising money from a large group of people — is to use it as an integral part of your product launch strategy. Get your future customers involved in funding, developing, and buying your initial product and they will keep buying your future products as well.
Pure and simple, a successful crowdfunding campaign positions your company to pull off much bigger deals in the future. The optimum framework for success in crowdfunding is:

In Phase 1 — Test — you validate product demand before your crowdfunding campaign is even designed, and determine your ideal product positioning and audience targeting. You test product ideas quickly, cheaply, and accurately using data rather than guesses.
Phase 2 — Launch — is where you pre-sell and build a large community of buyers who want to buy your product before you launch. You then aim to hit your crowdfunding target within 24 hours of launching your campaign so you rise to the top of the rankings and get free traffic. You then keep building momentum through upsells and more.
Phase3 — Scale — iswhereyoutakeyour crowdfunding success and use that to drive sales to your ecommerce website. In this phase, you also start to work on your next-generation or add-on product for your next crowdfunding campaign.
The whole point is not to look at crowdfunding as the end-game or even as a one-time campaign, after which you live happily ever after. Instead, use crowdfunding to raise your company to the next level, and as a tool to build a highly successful and relatable brand.
The Proven Crowdfunding System
---
1. Phase 1 - Test. The reality is 63.5% of all crowdfunding campaigns fail. Why? The product offered in the crowdfunding campaign is not positioned properly. This is why Phase 1 is all about figuring out who your target audience is and how you can effectively communicate the value of your product to that target audience. Everything else is just window dressing. Test until you know your crowdfunding campaign is going to be a success, and only once you've achieved this should you start putting together a crowdfunding campaign.

2. Phase 2 - Launch. The ultimate aim of all the work you do pre-launch is to make sure you get fully funded in the first 24-48 hours of your campaign. If you do that, you build momentum you can then harness to build a successful brand that endures. The launch phase is where you combine advertising, promotions, campaign updates, cross promotions, and upsells to hit your stretch goals and finish strongly. Success in this phase positions you to do more crowdfunding in the future.

3. Phase 3 — Scale. Post campaign is where you take the one-time customers who bought from you during the attention-generating crowdfunding campaign and move them to your long-term ecommerce business or website. The crowdfunding platform offers InDemand which lets you then sell your products indefinitely at the conclusion of your crowdfunding campaign. This is exactly what you want to do, because ecommerce is the final phase of the journey for your product. This is where you truly capitalize on crowdfunding campaigns.

Summaries.Com Editor's Comments
---
I really enjoyed CROWDFUNDED by Mark Pecota. I had always thought success in crowdfunding was a matter of good marketing first and foremost. This book made me understand there are systems and strategies that come into play as well, and that by following the strategy developed by Mark Pecota's consulting firm LaunchBoom, you can pretty much guarantee your crowdfunding campaign will be a success. The fact that his company has raised more than $50 million in crowdfunding without a single failure seems to signal they're doing something right.
I like their Test > Launch > Boom approach. It's logical and sensible. The idea is that you keep testing positioning possibilities until you figure out who your target audience really is and how you can reach them. In order to measure the effectiveness of your positioning, you ask people pay $1 to become launch VIPs who will get offered the best deal when the crowdfunding campaign launches. You spend time, effort, and money attracting enough VIPs so that when your campaign does get the green light, you're fully funded within the first 24–48 hours. You then use that momentum to generate more awareness of your campaign and to scale up. The other big sales week is the end of your campaign where you can use urgency and disappearing offers to drive more sales. You then keep your campaign running and attracting more customers by using Indiegogo's InDemand platform until you're ready to ship. Clever thinking.
It was sobering to read that 63% of all crowdfunding campaigns fail to reach their funding targets. It was also interesting that only 0.08% of all crowdfunding campaigns bring in more than a $1 million in funding. This book dives into the nitty-gritty details of how to make sure you end up on the right side of those statistics. Very good, hands-on ideas. I highly recommend that anyone who is considering doing crowdfunding should read CROWDFUNDED. My compliments to the book's author, Mark Pecota.