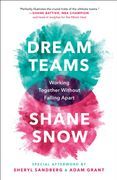 A 5 Minute Overview Of
Dream Teams
Working Together Without Falling Apart
About the Author
---
Shane Snow is a business journalist and self-confessed geek. He is a cofounder and chief creative officer of Contently Inc., a web-based platform which empowers freelance journalists to do what they love. He is also an adviser to Visual.ly and a published contributor to Mashable, WIRED Magazine, Fast Company, The New Yorker, Time, The Washington Post and New Scientist. He is the author of Smartcuts and The Storytelling Edge and was previously the founder of Brave Media LLC and assistant editor at Scroll Newspaper. Shane Snow is a graduate of Columbia University's Graduate School of Journalism and Brigham Young University - Idaho.
The Main Idea
---
Why is it some groups of people become spectacularly successful when they work together but most do not?

Logically, humans should excel at collaboration but studies show unambiguously that talented individuals consistently outperform teams. There are, however, some exceptions to the rule – a small number of "Dream Teams" which defy the odds and achieve something spectacular.
So how do you put together and run a dream team? New discoveries in psychology and neuroscience have decoded what the real secret sauce is in running a dream team. There are eight principles involved. Use them and excel.