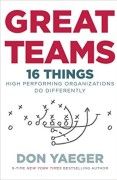 A 5 Minute Overview Of
Great Teams
16 Things High Performing Organizations Do Differently
About the Author
---
Don Yaeger is a keynote speaker and business leadership coach. He served for ten years as Associate Editor for Sports Illustrated and in that capacity got to observe up close and personal how great sports teams operate. He began his career as a reporter for the San Antonio Light and then worked for the Dallas Morning News and the Florida Times-Union. He has written 24 books (nine of which became New York TImes best-sellers) including A Game Plan For Life (co-written with John Wooden) and
Play It Like You Mean It. Don Yaeger is a graduate of Ball State University.
The Main Idea
---
Why is it that some professional sports teams manage to perform at championship-winning levels
year after year while most others do not?
When Microsoft asked this question, that set off a six-year study to try and decipher the code. After more than 100 interviews with the people behind the most consistently successful teams and organizations in the United States, it was shown the key is to maintain a culture of greatness.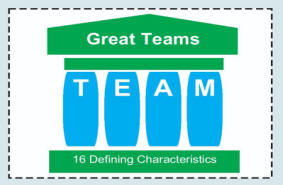 Specifically, maintaining that culture comes down to four essential pillars which set a great team apart:
Pillar #1: T – Targeting purpose Great teams connect everyone to a greater purpose. Everyone understands who they ultimately serve and why that matters.
Pillar #2: E – Effective management Great teams are able to think creatively and execute well so they can react to developments.
Pillar #3: A – Activating efficiency Great teams have members who are not only highly skilled individuals but who also know how to work with others for maximum impact.
Pillar #4: M – Mutual direction There is a strong sense of trust and shared responsibility which unites and motivates all the members of great teams.
There are 16 defining characteristics all great teams share which can and should be worked on.