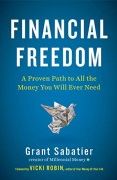 A 5 Minute Overview Of
Financial Freedom
A Proven Path to All the Money You Will Ever Need
About the Author
---
Grant Sabatier has been dubbed "The Millennial Millionaire" by CNBC. In 2010, Grant Sabatier was 24-years old and had $2.26 in his bank account. Five years later, he had a net worth of $1.25 million and by age 30 had reached financial independence. He started a blog to detail his journey and to teach that accepted wisdom about money, work and retirement is flawed. His blog Millennial Money now has more than 10 million readers. He also hosts a podcast titled Financial Freedom where he talks about personal finance, investing, entrepreneurship and mindfulness. He has been featured in the New York Times, Washington Post, NPR, Money Magazine and other publications. He is a graduate of the University of Chicago.
The Main Idea
---
What's the fastest way to achieve financial freedom? Grant Sabatier went from a net worth of exactly $2.26 to $1.25 million in just five years using this 7-step financial freedom plan:
The ultimate goal and true aim of financial freedom is exactly that – to gain the freedom to do whatever you want with your time. Financial freedom isn't something you can only enjoy in your sixties or seventies once you retire but should be achieved as soon as possible.