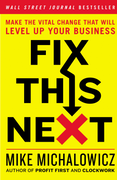 A 5 Minute Overview Of
Fix This Next
Make the Vital Change That Will Level Up Your Business
About the Author
---
Mike Michalowicz is a serial entrepreneur, angel investor, and keynote speaker. By his 35th birthday, he had already founded and sold two multi-million-dollar companies, and today heads up two new multi-million-dollar ventures. He is the creator of the Profit First and Clockwork methodologies used by hundreds of thousands of companies. Mike was formerly small business columnist for the Wall Street Journal and a business makeover specialist for MSNBC. He is the author of six books including Clockwork and Profit First. Mike Michalowicz is a graduate of Virginia Polytechnic Institute and State University.
The Main Idea
---
Entrepreneurs pride themselves on being able to put out fires. They love to tackle problems — to calm irritated customers, to send out proposals, to make sales presentations ...and the list goes on and on. The problem is if you stay in firefighter mode forever, all you end up doing is running around in circles, and getting nowhere.
A better approach is to understand your business has a hierarchy of needs. To adequately address the high-level needs, you first have to make sure all your lower-level needs are sorted.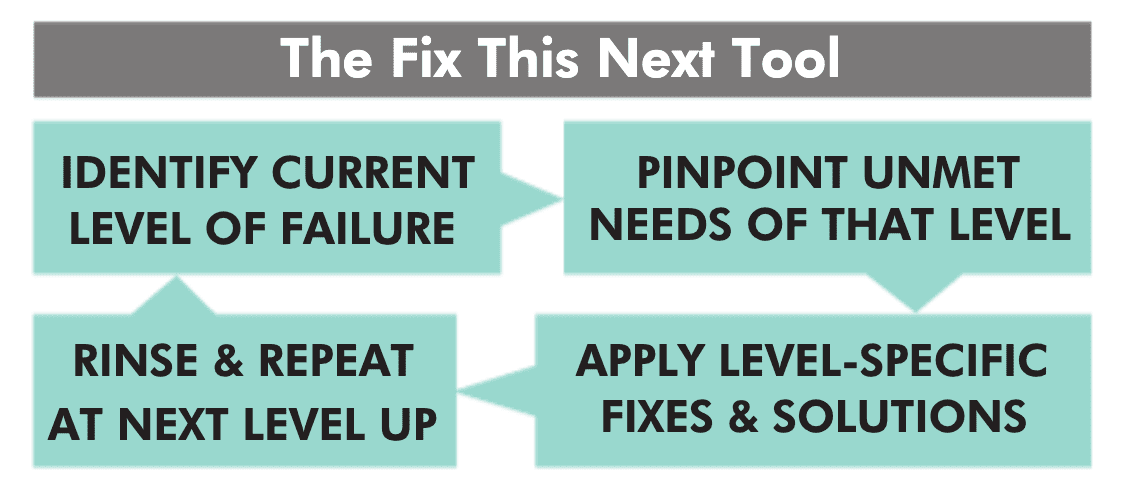 Don't try and establish a legacy until you first have solid sales processes, and your business is consistently profitable. Tackle all your low-level needs before you try and address your high-level needs.
The Business Hierarchy of Needs
---
1. The Business Hierarchy of Needs. A healthy company must first have predictable sales, ongoing established profitability, and good business systems in place to bring order before it can even attempt to make an impact and create a legacy. Don't try and fix everything at once. Identify the lowest level where you have problems, and fix that first.
2. Level 1 — Establish predictable sales. Sales are the lifeblood of any company because they create cash flow. If your company does not have sales, you won't be able to last for long.
3. Level 2 — Create ongoing profitability. Profitability generates stability and long-term business health. This measures how much money you personally can take from the business without negatively impacting the continued health of your business.
4. Level 3 — Achieve organizational order. Once you have a profitable business, your focus will turn to creating order and efficiency. At this level, you look at creating systems that enable everything to run like clockwork, with or without your hands-on involvement.
5. Level 4 — Make an impact. This is the level where you move from transactional offerings to transformational offerings. You now have confidence your business will survive, so you can start shaping the greater good you want to deliver. You start attracting brand loyalists, ambassadors, and lifelong members who want to help you have an impact.
6. Level 5 — Spark your company's legacy. At the highest level, you start focusing on permanence. You aim to create something that will endure long after you retire or move on. You want to make sure your company has the ability to adapt to the changes which may arise in the future as the world evolves.
Key Takeaways
---
Businesses, like people, have a hierarchy of needs. Tackle your low-level needs and sort them out before you address your high-level needs.
Business success is a journey, not a one-time event. Navigate it systematically for maximum results.
Summaries.Com Editor's Comments
---
Great concept and well thought out book. Serial entrepreneur and angel investor Mike Michalowicz points out that in just the same way as there is a human hierarchy of needs, there is also a business hierarchy of needs. For example, before you can ever worry about changing the world and creating a legacy, you first have to put solid and profitable sales processes in place. You need a solid foundation before you can go for higher aims. Very logical idea now that I think about it, but not obvious beforehand.
Mike Michalowicz also makes the point: "Most business owners try to master all things at once. It was my modus operandi for years. I intended to simultaneously have impact, make lots of money, work whenever I wanted to, create a legacy, and have clients flocking to my company. The thing is, prioritizing everything at the same time means that nothing is a priority. Just like Maslow's hierarchy, all these elements are in play at all times. However, you can only concentrate your energy on solving one issue within one level at a time. The golden rule is always to satisfy the most essential need (the one closest to the base), before addressing a need above it."
As someone who cannot ever multi-task, it makes perfect sense to me focusing on one level at a time is the most effective way to grow. Really enjoyed the book. It's well thought out.