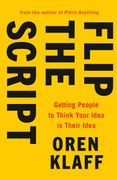 A 5 Minute Overview Of
Flip the Script
Getting People to Think Your Idea is Their Idea
About the Author
---
Oren Klaff is an investment banking advisor, investor and author. His previous book, Pitch Anything, achieved bestseller status and has now sold more than 1 million print copies. Oren Klaff is a self-professed deal junkie and classic motorcycle enthusiast. He currently serves as managing director of Intersection Capital, a $200 million private equity investment fund, and he also acts as an advisor to several other businesses. Oren Klaff is a graduate of Florida State University and the University of Delaware.
The Main Idea
---
Nobody likes feeling like they have been pressured into making a purchase. We all hate boring sales pitches. Therefore, the best way to sell anything today is to guide the buyer to discover your idea or your product on their own. People naturally trust their own ideas, so if they believe it, they will get excited and basically sell themselves.
In other words, it's time to flip the script. Stop trying to persuade people to buy what you sell. Instead, plant your idea in their mind. Help them fall in love with it. Do that and you can turn the power to the buyer and let them decide for themselves.
To accomplish this will take five steps: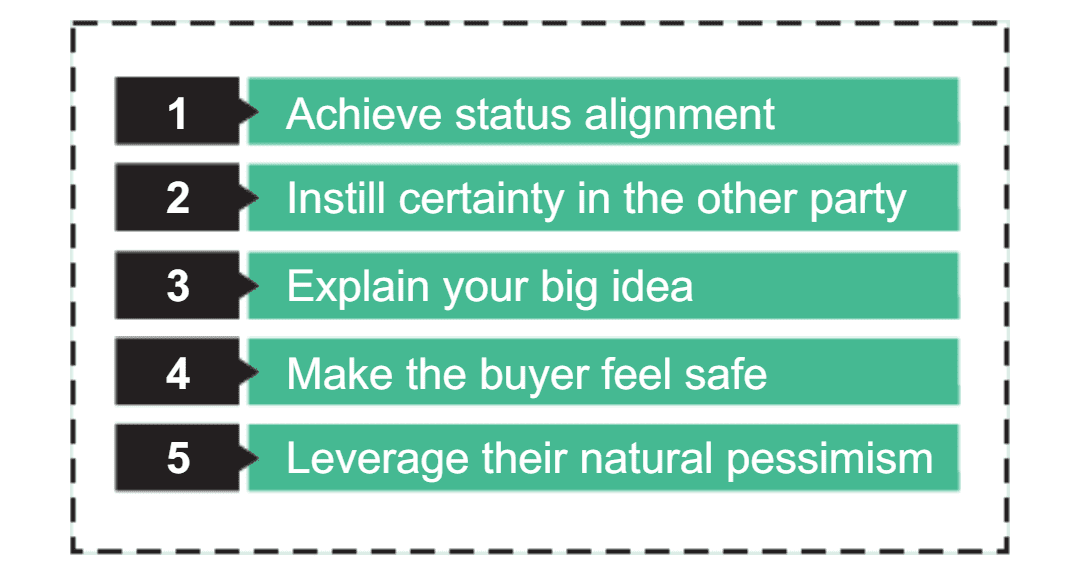 How to Flip the Script
---
1. Step #1 — Status alignment. Job #1 in flipping the script is to get the other person to take you seriously. You do that by giving them a status tip-off that you're on the same level as them.
2. Step #2 — Instill certainty in the other party. Next you establish your credentials as an expert, and therefore you have the ability to forecast what is likely to happen in the future. The best way to do this is by using a "Flash Roll" — something which definitively highlights your level of expertise.
3. Step #3 — Explain your big idea. The most effective way to flesh out your big idea is to do that in terms of the three W's:
1). Why do I care?
2). What's in it for me?
3). Why you?
Often a good way to achieve this is to use a sequence of some pre-wired ideas which already exist in the prospect's mind:
Winter is coming
2X
Skin in the game
4. Step #4 — Make the buyer feel safe. The best way to make the buyer feel so safe they end up pitching your idea back to you is to find their novelty sweet-spot. Show them your idea is really just plain vanilla with one difference.
5. Step #5 — Leverage their natural pessimism. To contain the buyer's natural pessimism, list the obvious ways to fail. Build fences and then use a buyer's formula to teach them how to buy.
Summaries.Com Editor's Comments
---
I can't honestly remember when I laughed so much while reading a business book. "Flip the Script" has some of the funniest stories I can recall reading for many years. I highly recommend that you get a copy and enjoy.
What makes it even better is that the underlying concepts are quite profound. Oren Klaff is saying that the best way to sell anything is to take a cue from the movie Inception and plant an idea in your prospect's mind. Guide the buyer to discover that idea on their own and get excited about it. It can be done, and he details the tools and strategies you can use to accomplish that. Brilliant.
This is the opposite of the normal sales training where you memorize power closes and learn how to handle every objection. Oren suggests that if you plant an idea in the buyer's mind and let them develop it on their own, none of that other stuff is needed. Buyers will just naturally want to go ahead because they will feel ownership. This is a very savvy approach to selling and influencing people. It's so logical that even Spock would be impressed. My hat's off to Oren Klaff. I think he has produced a business classic here. Highly recommended.