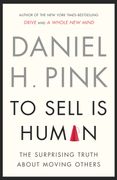 A 5 Minute Overview Of
To Sell is Human
The Surprising Truth About Moving Others
About the Author
---
Daniel Pink is a keynote speaker and the author of five books including Drive, A Whole New Mind and Free Agent Nation.He specializes in writing about business and technology, especially the changing world of work. He was chief speech writer for Vice President Al Gore from 1995 to 1997 and has also worked as an aide to U.S. Labor Secretary Robert Reich and in other positions in politics and government. He is today rated as an influential business thinker and his articles appear in many publications including the New York Times, Harvard Business Review, Fast Company and Wired. He also provides analysis on business trends to CNN, CNBC, ABC and other networks. Daniel Pink is a graduate of Northwestern University and Yale Law School and has received honorary degrees from Westfield State University and the Ringling College of Art and Design.
The Main Idea
---
Today, we're all in sales whether we realize it or not.
No matter what your job title is, if you honestly analyze what you really do you'll probably find you spend upwards of 40 percent of each day persuading, convincing and cajoling others to part with their resources in exchange for what you're trying to do. Trying to move others is selling pure and simple.
At first glance, the idea of being in sales may be repugnant — particularly if you've always viewed salespeople as sleazy types who glide through life on a shoeshine and a smile — but fortunately, sales isn't what it used to be. In fact, selling has changed more in the past ten years than it did in the previous hundred years and many of the assumptions which people have always had about selling have crumbled.
Like it or not, we're all engaged every day in influencing others to trade something they've got in exchange for what we've got. In other words, we're all in selling now — so the smart thing to do is to figure out how to get better at moving others to your way of thinking. It really is the most valuable skill-set of the future.
Sections in this Books
---
1. The Death and Rebirth of a Salesman. Conventional wisdom suggested the Internet would bring about the end of intermediaries like salespeople. What has come about is pretty much the opposite of that, thanks to three main drivers:

Technology has lowered entry barriers thereby fueling a surge of entrepreneurship.
Instead of doing one thing, most jobs now stretch across multiple boundaries.
The fast-growth industries are education and health care — jobs which move people.
Fortunately, while more of us are in sales, the nature of sales itself has changed dramatically. Instead of being about deception and hustle, today's sales success is based on honesty, fairness and transparency. The era of "caveat emptor" (buyer beware) has been superceded by an era of caveat venditor (seller beware).
2. The Three Qualities That Matter Most in Trying to Move Others Today. The traditional adage of the sales industry was ABC — "Always Be Closing." Salespeople used to learn 50 power closes and they would work their way through the list until they found one that worked. That has now been superceded by a new generation ABC — "Attunement, Buoyancy and Clarity" drive sales today.

3. How to Become Better at Sales. If you accept that selling is important in your career today and likely to be even more important in the future, then it makes sense to try and figure out how to become better at personal selling. To equip yourself to excel in the future, learn three key skills: