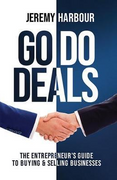 A 5 Minute Overview Of
Go Do Deals
The Entrepreneur's Guide to Buying & Selling Businesses
About the Author
---
Jeremy Harbour is a merger & acquisition expert, specializing in small- to medium-sized enterprises (SMEs). He is the founder of the Unity Group of Companies, a firm which creates opportunities for SMEs to scale and grow. He is also the founding investor of MBH Corporation PLC, and the founder of the Harbour Club which teaches how to conduct acquisitions. Jeremy Harbour has business interests in twelve countries with more than 130 employees generating in excess of $15 million in annual sales revenue. He has personally completed more than one hundred acquisitions, and also acted as an adviser on more than two hundred acquisitions. He is the author of Idea to IPO in 12 Months, Agglomerate, and Why You Shouldn't Buy a Business That's For Sale.
The Main Idea
---
The easiest and most creative way to grow the revenues of any small- to medium-sized enterprise (SME) is to make an acquisition. If you do this well, it's possible to double your company's revenues and profits in a day.

Learning how to buy good-to-great companies in a low-risk and high-reward way can be a game changer. It can help you step up to the next level with immediate effect, and curiously the best deals are never just about money. To really do this well, you have to understand people's motivations, and create a deal structure which works for them just as much as it works for you.
Go do deals. It can change your life.
How to Buy and Sell Businesses
---
1. Why do deals? The guys who runs businesses, and grind it out operationally, never make big money. They're too busy working in the business. Real wealth comes about when someone buys your business, or you use the value of your business to get into the much larger game of mergers and acquisitions. You should do deals to move up to the next level.
2. Where to find great deals. Strangely enough, you shouldn't look for businesses for sale. Instead, you should network, and identify yourself as an investor. Create a deal stream of multiple opportunities, and focus on finding bolt-on acquisitions, which add value to your present offerings, or strategic acquisitions which add immediate scale.
3. How to put together deals. Everyone will start out wanting cash upfront for an acquisition, but that's rarely the best approach. Instead, you should clarify what the seller's real motivations are. Once you know that, there are then lots of different ways to structure the deal. Good deals have to be win-win, but most of the time deal structure is more important than price. Your challenge is always to maximize the perceived value of your deals.

4. What to do after the deal. Don't get emotionally attached to the companies you buy. Fix their problems, add value, and then create a capital event which you can use as your exit strategy. Learn something valuable you can apply the next time around, and move on. The right time to sell is now, and your best customer will be the person who buys your company.
As an entrepreneur, your natural inclination will be to want to keep your businesses forever, especially if you've helped a company grow substantially. That's okay at first, because there will be a checklist of things you can do to create shareholder value:
Key Takeaways
---
The easiest and most creative way to grow the revenues of any small- to medium-sized enterprise is to make an acquisition. If you do this, you can double your revenues (and profits) in a day.
The guys who run business and grind it out never make big money. Real wealth comes when someone buys your business, or you make an acquisition to get into a much larger game. Do deals to move to the next level.
Summaries.Com Editor's Comments
---
I really liked GO DO DEALS written by Jeremy Harbour. He makes the point that doing deals can move you to the next level fast. He cites examples where he has managed to add a year's worth of growth and profitability to his own companies in an afternoon by doing the right deals. Jeremy Harbour also makes the very valid point that doing deals creates what he calls "liquidity events" where you turn paper wealth into actual money in a bank account.
I do think deal-making is an important skill for the small- to mid-sized business owner or manager. If you can get good at this, the sky's the limit. Some of the world's most successful entrepreneurs achieved that status by being great deal makers, who can see where 2 + 2 = 5. He also made me chuckle with his quote: "Before you judge a person, you must walk a mile in their shoes — that way you are a mile away ... and you have their shoes." Brilliant. Do deals and prosper. It's a great way to create value for all involved.