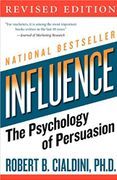 A 5 Minute Overview Of
Influence
The Psychology of Persuasion
About the Author
---
Robert Cialdini is professor emeritus of psychology and marketing at Arizona State University where he specializes in persuasion, compliance and negotiation. He has previously taught at several universities including Ohio State University, the University of California and Stanford University. He is also CEO and president of his own consulting firm, Influence At Work. Dr. Cialdini has consulted with firms such as Google, Microsoft, Cisco Systems, Bayer, Coca-Cola and many others. He is the best-selling author of Pre-Suasion and Influence which has sold more than 3 million copies. He is a graduate of the University of North Carolina and Columbia University.
The Main Idea
---
There is a science to persuasion. Specifically, there are six weapons of influence which people and companies (especially advertisers) use to try and get you to do something or buy their stuff. Those weapons of influence are: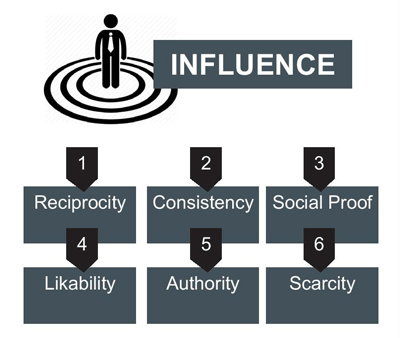 These weapons of influence work because life is busy and you need to make quick decisions rather than laboriously gather all the data. Therefore, you rely on an isolated piece of information to decide quickly. Sometimes that works well but when others are manipulating the weapons, problems arise.
To counter these weapons of influence, be aware of what the compliance professionals are trying to do. They're selectively fudging the data to try and get you to say "yes" to whatever they offer. Fight back and retaliate. The stakes have gotten too high to sit back and do nothing.