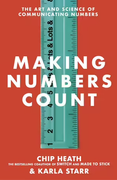 A 5 Minute Overview Of
Making Numbers Count
The Art & Science of Communicating Numbers
About the Authors
---
Chip Heath is a professor at Stanford University's Graduate School of Business. He has also taught at Duke University, and is the co-author (with his brother Dan) of several business bestsellers including Made to Stick, The Power of Moments, Switch, and Decisive. Dr. Heath is a graduate of Texas A&M University and Stanford University.
Karla Starr is an accomplished science journalist and behavioral scientist. She is the author of Can You Learn to Be Lucky? Karla Starr is also a columnist at Medium, a blogger with Psychology Today, and an experienced book editor. She is a graduate of New York University.
The Main Idea
---
How do you make the numbers you use in your business and in presentations really zing? The reality is nobody really understands numbers all that well. Most people have terminology for the numbers 1, 2, 3, 4, and 5, and then everything else just blurs into "lots".

To really make numbers come alive, there are four general principles to follow: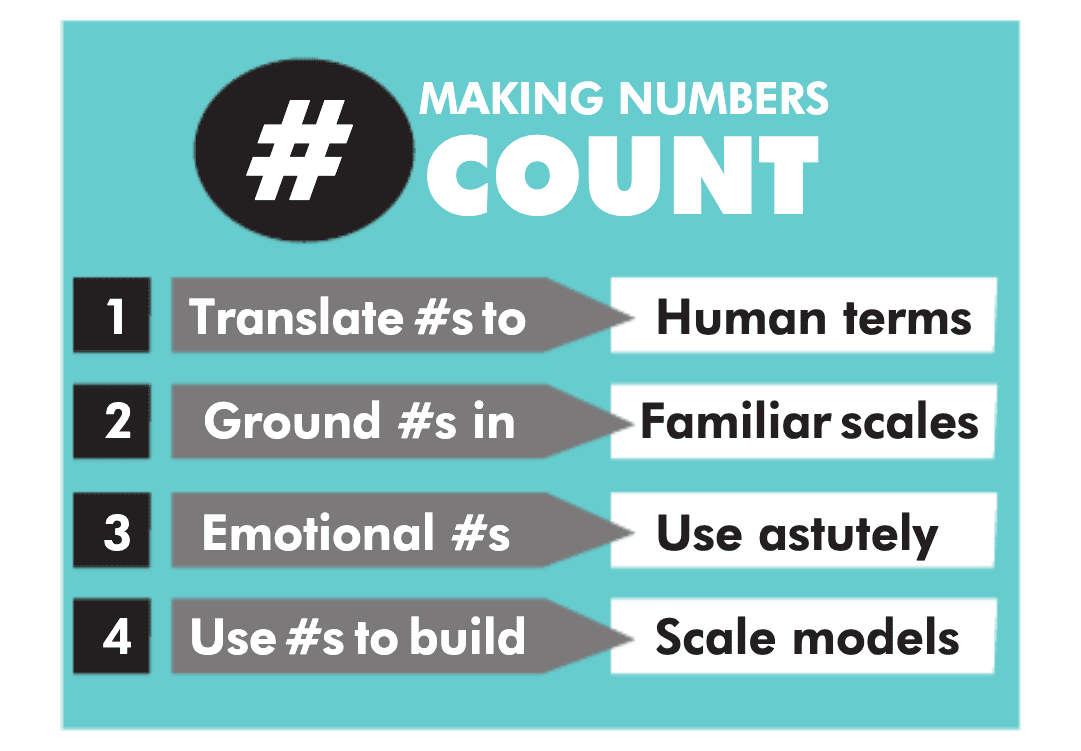 Making Numbers Count
---
1. Translate numbers to human terms. Numbers don't come naturally to a lot of people. Therefore, to make your numbers standout, translate them into terms that are familiar to humans. Comparisons are particularly effective. Which do you remember easiest? "Pakistan has an area of 340,000 square miles" or "Pakistan is about the size of 2 Californias." Translate numbers into terms humans will relate to.
2. Ground numbers in familiar scales. One of the best ways to get people to understand your numbers is to use a scale your audience already knows very well. Give people a scale which is familiar, concrete, and human-friendly.
3. Use emotional numbers astutely. A great way to breathe life into statistics is to combine objective analysis with appeals to emotions. Connect the numbers you want to highlight to preexisting pools of emotion in your target audience and you transform dry statistics into motivators of action. This is what history's greatest achievers have frequently done, and you should do the same.
4. Use numbers to build scale models. Another good way to orient people to an unfamiliar statistic is to give them a well-known frame of reference first. Establish some landmarks that will help them understand the context without being an expert. A good way to do that is to build a scale model first, and then use that to enhance understanding and attention.
Key Takeaways
---
Do everything you can to make your business numbers sizzle and come to life. It can make a huge difference in the impact you achieve.
"If you can use math, you have a valuable skill. If you can use it and make it clear, bringing what is obscure and distant into the range where others can see it and feel it – well, then you have a superpower. Superman could see through walls; you can make the walls invisible so everyone else can see through them."
-- Chip Heath and Karla Starr
"We believe the world becomes a better place when we use numbers more often and more wisely. Counter to conventional practice, that probably won't involve squeezing more statistics on a page. In fact, it will often mean using fewer digits but with more impact. We believe in numbers not as background, not as decorations, but as central points, with profound stories to tell. We believe in numbers, deeply. We believe in making them count."
-- Chip Heath and Karla Starr
Summaries.Com Editor's Comments
---
Brilliant book this week. Business professor Chip Heath teams up with science journalist Karla Starr to explain how to make the numbers you use in business presentations and elsewhere really zing. They've developed four principles that can help anyone use maths to make their point in more memorable ways. If you can pull this off, you have a business superpower worth celebrating.
Let's roadtest their theories. One of the ways they suggest is to use comparisons rather than merely stating numbers with no context. Which of these statements do you find most memorable? "Pakistan has an area of 340,000 square miles" or "Pakistan is about 2-times the size of California". Or another principle is to make your numbers unfold over time. "Do you understand the difference between a million and a billion? Let's test that. You win a million dollars in a lottery where the only rule is you have to spend $50,000 a day until your money runs out. Your friend wins a billion dollars in the same lottery. How long does it take each of you to spend your lottery windfall? As a new millionaire, it would take you 20 days to work through your money at $50K a day. Your billionaire friend would be able to hold out a tad longer. At $50K per day, it would take him 55 years to work through his money. That's the difference between being a millionaire and being a billionaire".
Really interesting book that makes you rethink and reexamine how you can make numbers count. As Hath and Starr state: "It's hard to imagine someone who wouldn't benefit from this power. Our world increasingly features numbers that lie beyond the scope of our intuition. We live in a world in which our success often depends on our ability to make numbers count". Amen to that.