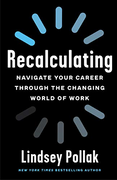 A 5 Minute Overview Of
Recalculating
Navigate Your Career Through the Changing World of Work
About the Author
---
Lindsey Pollak is a keynote speaker, consultant, and career expert. She is the author of several books including The Remix, Becoming the Boss, and Getting From College to Career. Lindsey Pollak has consulted with Estee Lauder, GE, Google, Pfizer, Verizon, and more than 250 corporations, law firms, and universities. She has also been featured as a workplace and career expert on The TODAY Show and on CNN, and in The Wall Street Journal, The New York Times, and elsewhere. Lindsey Pollak is a graduate of Yale University.
The Main Idea
---
COVID-19 and a global pandemic made 2020 pretty much "unprecedented" for lots of people. When you also add in the impact of increasing automation, the surge of remote work, and increased political and social pressure for diversity and inclusion, it's pretty clear this is not an era for "business as usual" when it comes to managing your career.

So what should you do? In the infamous words of a GPS app on your phone or other device when you inadvertently take a wrong turn, it's time to recalculate your career goals.
There's no doubt this will be a challenge, but it's also an amazing opportunity to go in a fresh direction which might not have even been available when you finished college. The new digital economy offers some genuinely awe-inspiring career options.
Welcome to membership in the Recalculators Club.
The Six Key Principles of Recalculating
---
1. ADJUST YOUR MINDSET — Be positive. It would be easy to think the unprecedented disruptions caused by the pandemic are a pain. Forget about it. They have generated once-in-a-lifetime opportunities for those who believe in themselves. Choose to join their ranks, and step forward.
2. FORGE NEW PATHS — Recalculate upwards. Since you're going to be going in a new direction anyway, pause and clarify what a successful career truly looks like for you. Make sure that what you aim for now is genuinely what you want to achieve with your career. Aim higher than before.
3. BUILD A CAREER STORY — Personal brand. Building and then communicating your personal brand is something that is firmly in your control, and which can significantly enhance your recalculation progress. Make sure you have defined your personal brand, and you're learning how to communicate it all the time.
4. NETWORK — Tap personal relationships. Personal referrals are hands-down the best and fastest way to land a new job. To be in a position to generate those referrals when you need to recalculate, start building your personal network now. The broader your professional network becomes, the better.
5. ACE JOB SEARCH — Build greater expertise. The best way to become skilled at job hunting is to start applying for jobs today. The sooner you get in the game, the better you're going to get at it. Do the work, and make job applications every day. You won't get 100 percent of the jobs you don't apply for.
6. TRANSFORM — Make your jobs opportunities. No matter how and why you've ended up in a new job, make sure you take advantage of the opportunity to acquire new skills, integrate more people into your professional network, and enhance your career. Always have the right attitude, and you'll soar.
Key Takeaways
---
The new digital economy offers some genuinely awe-inspiring career options. Be prepared to take advantage of them.
Careers don't go in a straight line anymore. Be prepared to zig and zag your way to the top.
"Recalculation is not a phase; it's a mindset. Or, in more common parlance, it's not a bug; it's a feature." Andy O'Hearn
Summaries.Com Editor's Comments
---
As we worked on preparing the summary of RECALCULATING, I was reminded of Winston Churchill's famous quote from World War II: "Never let a good crisis go to waste". Career guru Lindsey Pollak has taken that approach with the COVID-19 pandemic, and suggests this is an ideal time to recalculate your career, and head off in new and better directions. She is relentlessly positive about taking advantage of new career choices, which may not have been available when you left university for example.
Overall, I thought this was a great way to put a positive spin on COVID-19. It has been an unprecedented disruption, but that has also led to once-in-a-lifetime opportunities as well. Very smart thinking, and a savvy strategy. With a bit of planning and some decisive action, you may be able to turn the pandemic into a major upgrade for your career prospects. I like that. Great book. Well worth buying and reading.