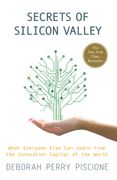 A 5 Minute Overview Of
Secrets of Silicon Valley
What Everyone Else Can Learn from the Innovation Capital of the World
About the Author
---
Deborah Perry Piscione is CEO of Alley to the Valley, an organization that networks business women for deal making. She is also CEO of woman's magazine BettyConfidential , a commentator on CNN and NPR and co-founder of Chump Genius, en educational gaming company. She spent 18 years in Washington as a congressional and White House staffer and on-air commentator for cable TV stations before moving to Silicon Valley. She is the author of Unfinished Business: A Democrat and a Republican Take on the 10 Most Important Issues Women Face. In 2010, Deborah Pisicone won the award as Silicon Valley Entrepreneur of the Year. She is a graduate of Georgetown University and Florida State University.
The Main Idea
---
For all the turmoil which exists in the global economy, Silicon Valley continues to power ahead as the center of the innovation universe. In the last two years alone, more than 100 incubators have sprung up there and the number of angel investors trying to get in on the next big thing have skyrocketed. Today, more than 40 percent of all venture capital investments made in the United States each year are made by Silicon Valley firms.
So what does Silicon Valley do well that all its many imitators fail to do? It's certainly not the local government — California is widely regarded as one of the worst states in the union for business. The real "secret sauce" which makes Silicon Valley succeed are the 10 factors which contribute to Silicon Valley's unique ecosystem:
Stanford University.
Highly motivated people out to change the world.
An understanding of the cycle of innovation.
A pool of savvy entrepreneurs.
Business models which are value-focused.
A large pool of venture capital investors.
A well established services infrastructure.
Great places to meet.
An outdoor lifestyle.
Meritocracies — where great ideas win.
Sections in this Books
---
1. History — How Silicon Valley Came To Be. There are eight historical events which have helped mold and shape the Silicon Valley of today:

2. The Silicon Valley Ecosystem That Exists Today. When you strip away all of the trappings and embellishments and get beneath the surface, there are really just ten distinctive characteristics which make Silicon Valley the success it is today. The unique characteristics of the Silicon Valley ecosystem and culture are: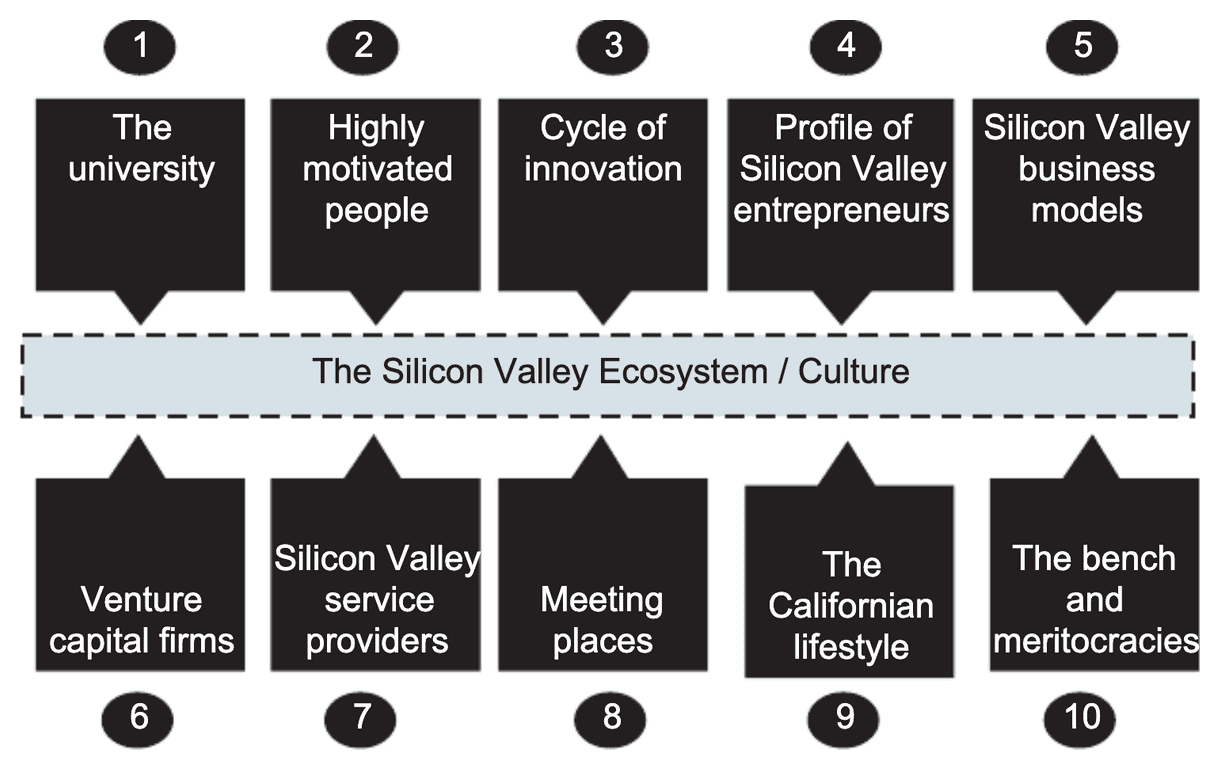 3. Can Silicon Valley Be Replicated? The real challenge in cloning Silicon Valley is to replicate Silicon Valley's culture. That's tough because Silicon Valley has a culture which thrives on creative destruction rather than shying away from it. Creating a critical mass of the right environment, the right people and the right mix of brains and capital is also tough to duplicate. Maybe someone will get it right but it's hard to see at the present time.