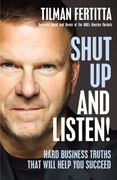 A 5 Minute Overview Of
Shut Up and Listen
Hard Business Truths That Will Help You Succeed
About the Author
---
Tilman Fertitta is chairman and CEO of Landry's Inc. and Golden Nugget Hotel & Casinos. He is also the sole owner of Fertitta Entertainment, Inc. which owns and operates more than 600 restaurants, hotels, amusement parks, and aquariums in 36 states and more than 15 countries. His 60 restaurant brands include Mastro's Steakhouse, Morton's The Steakhouse, Rainforest Café, Saltgrass Steak House, and Bubba Gump Shrimp Co. Described as "the world's richest restauranteur", Tilman Fertitta also has his own reality TV show on CNBC called Billion Dollar Buyer. In October 2017, he purchased the NBA's Houston Rockets for a record $2.2 billion. He is a graduate of the University of Houston.
The Main Idea
---
Never, ever stop worrying about your business. Even when it seems to be going smoothly, there's certain to be a force lurking out there somewhere that has the potential to take aim at your success. That threat will pretty much always come from your blind spot so stay vigilant.
Specifically, there are five potential blind spots which can kill a business if you're not working on them all the time. Focus on addressing these blind spots and you also have the potential to develop ideas which will help you break through to the next level. The five blind spots are: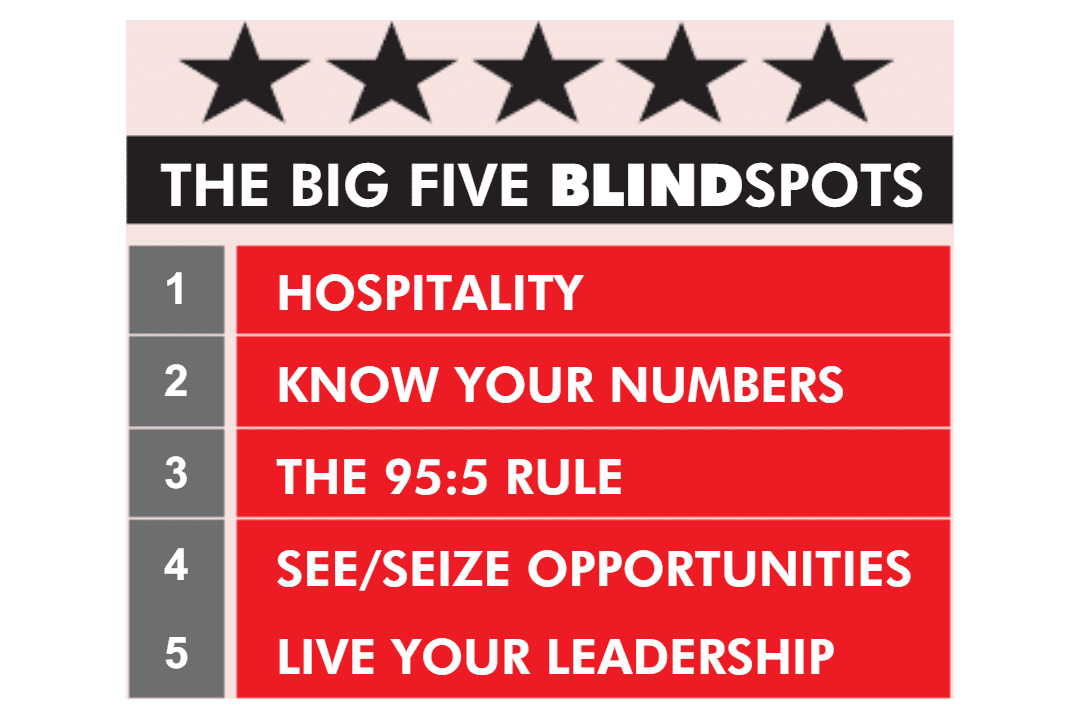 Above all else, make sure you shut up and listen.
The Big Five Blindspots
---
1. Hospitality. Whether you realize it or not, every successful business is built around hospitality. You have to know what this means for your business and then overcome each and every obstacle which can get in the way of providing hospitality.
2. Know your numbers. Your numbers will dictate whether you rise to the next level or struggle endlessly. You've got to know your numbers inside and out to drive your business. It doesn't matter how good your product is — if you don't know your numbers, you'll go out of business.
3. The 95:5 rule. Most businesses tend to be good at around 95 percent of what they do. It's that remaining 5 percent that makes all the difference. Identify what your 5 percent is and then do everything you need to do to make your business excel in those areas.
4. See/seize opportunities. Successful entrepreneurs are opportunists. Build a business that does something different, something better. If you can make the most of situations saturated in chaos and confusion, you'll do well. Success always takes time and perspective.
5. Live your leadership. Anyone can be a leader when times are good. It's when things are bad that you have the opportunity to show what you're really made of. Work hard to steadily improve your leadership skills. Great leadership goes hand-in-hand with great businesses.
Summaries.Com Editor's Comments
---
I must admit I'd never heard of Tilman Fertitta before I read his book, so it was a pleasant surprise to come across someone who is not afraid to call a shovel a shovel. He comes across as a blunt, no nonsense type — which is a great way to do business.
I particularly liked his focus on attention to detail and the fact that you have to know the numbers to drive your business forward. His 95:5 Rule is quite original and encapsulates much popular wisdom in business circles. I also thought his ideas about seizing opportunities when everyone else is running for cover were well thought out and insightful. He certainly walks the talk in that regard and has made some gutsy business moves during downturns and times of turmoil.
All in all, a good book that tells it like it is. I suspect we'd all be much further along the path if we would just "Shut up and listen!" to our customers more.