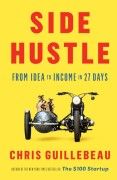 A 5 Minute Overview Of
Side Hustle
From Idea to Income in 27 Days
About the Author
---
Chris Guillebeau is a publisher and the founder of the Side Hustle School. He is the author of The $100 Startup and The Happiness of Pursuit, both of which became New York Times bestsellers. He is also a passionate traveler having visited 193 countries before his 35th birthday. Chris Guillebeau also produces and hosts the World Domination Summit held every year in Portland. His blog receives more than one million hits a month and his newsletter has more than 80,000 subscribers. He is a graduate of the University of Washington.
The Main Idea
---
Everyone should have a side hustle – a part-time business you run to generate additional income without giving up your day job. Why?

A side hustle gives you job security.
You can use the skills you already have to generate more income with a side hustle. No additional training is required.
Having more than one source of income will give you more freedom and more options.
A side hustle can allow you to do more of what you love to do with no added financial pressure.
The Side Hustle Plan is all about taking action to go from idea to income in 27 days or less. To achieve that, you don't need to spend any money. Nor do you need an MBA or any employees, assistants or business partners. All you do need is a commitment to act and a willingness to commit no more than an hour a day to growing your side hustle. You'll be amazed at how simple it is to turn your idea into income when you follow the plan.