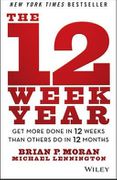 A 5 Minute Overview Of
The 12 Week Year
Get More Done in 12 Weeks Than Others Do in 12 Months
About the Authors
---
Brian Moran is founder and president of his own consulting firm, Strategic Breakthroughs. He has experience in management and formerly held executive positions with UPS, PepsiCo and Northern Automotive before launching Bio Care, a medical surveillance form. He consults with companies including Coldwell Banker, New York Life, Medtronic and Tiffany & Co. Mr. Moran is a graduate of Michigan State University.
Michael Lennington is president and CEO of The 12 Week Year Coach, a training and coaching company. He previously worked as a project manager at Senn-Delaney Leadership and as a director at Arthur Andersen. He is a graduate of Michigan State University and the University of Michigan.
The Main Idea
---
For many companies, December is the best sales month of the year as everyone focuses on the "year-end push" towards annual targets. It's actually quite common for the 4th quarter to make up 30 - 40% of annual sales. Having a goal and an immediate deadline gets people focused and working hard.
With that in mind, the question is: Why save that kind of effort for just once a year? Instead of working towards 12-month goals which can seem a long way away at the beginning of each year, you should instead set 12-week goals and have your people pursue those with the same kind of concentrated effort they put into the year-end push. "Periodization" is the concept of changing your time-frame so you make sure every week counts. Throw out the annual plan and break each year into four 12-week periods.
If you move to use Periodization, why not also set an audacious goal at the same time? What about if you could boost your productivity so much that you can achieve in a 12-week period the same results you previously generated over an entire year! That kind of productivity boost would be a genuine game-changer for most people. Is it feasible? Well, if you're honest you will probably admit you're not always in high productivity mode all the time at the moment. Can you honestly forecast what would be the results if you were to gear up to being highly productive every week?
The 12-week year concept is to organize yourself so you perform at your best all the time by consistently taking action on the things which will most directly shape and dictate your results.
Sections in this Books
---
1. The "Periodization" concept. It's time to discard annualized thinking and start working like every month, every week and every day counts. Periodization is to break the year into four distinct 12-week cycles and to focus on achieving exceptional results within each individual period in its own right. Forget about a year being 12 months — you define it as 12 weeks. The 10 principles which make Periodization work as a productivity booster are:
2. How to structure and execute a 12-week year. To achieve a year's results in just 12-weeks, you will need a great execution system. The 12-week year execution system is based on 3 principles, 5 disciplines and 1 cycle: