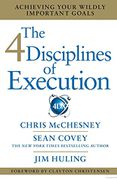 A 5 Minute Overview Of
The 4 Disciplines of Execution
Achieving Your Wildly Important Goals
About the Authors
---
Chris Mcchesney is Global Practice Leader of Execution for FranklinCovey. He is a keynote speaker, consultant and advisor on strategy execution. He has consulted with a broad range of organizations as they have tried to increase their execution performance.
Sean Covey is Vice President of Global Solutions and Partnerships for FranklinCovey. He oversees operations in 141 different countries and also serves as Chief product Architect for FranklinCovey. He is a graduate of Brigham Young University and Harvard Business School.
Jim Huling is Managing Consultant for FranklinCovey's 4 Disciplines of Execution. He teaches the system and helps organizations implement it. He is a graduate of the University of Alabama and Birmingham-Southern College.
The Main Idea
---
Almost everyone agrees developing a strategy is easy but that executing that strategy is much harder, especially if that requires a significant change in human behavior. Strategy can be changed with the stroke of a pen but executing on a strategy and achieving an important goal often requires that you do new and different things — and these new and different things usually come up against the "whirlwind"of activities which make up a normal working day. Most people are just trying to survive battling that whirlwind and don't have the time or energy to do something new.
With that in mind, the key to increasing execution is not to manage your whirlwind. It is instead to execute your most critical strategy in the midst of that whirlwind. There are four steps involved: "The 4 Disciplines of Execution":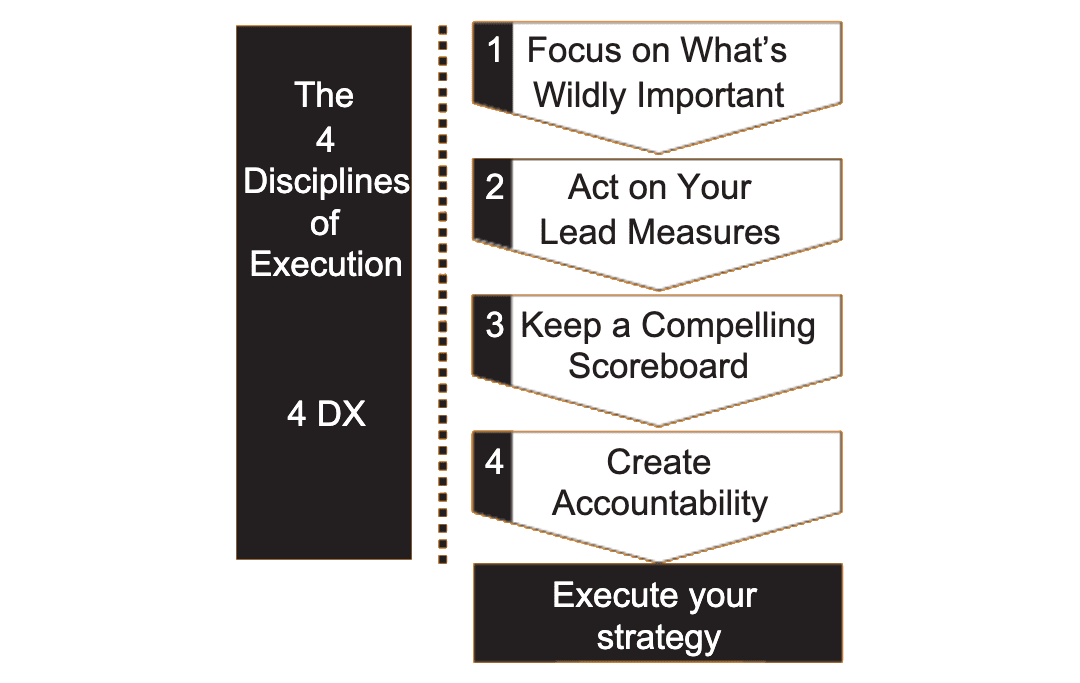 Sections in this Books
---
1. Focus on What's Wildly Important. An inescapable truth is the more you try to do, the less you will usually accomplish. People lose track of this and try to cram more and more into each day. Therefore, the first step to executing is to figure out what exactly is wildly important to what you want to achieve and then focus on that alone. Select one or at absolute most two wildly important goals and make them your top priority. Make it clear to everyone this is what matters most.
2. Act on Your Lead Measures. The is the discipline of leverage. You have to accept some actions will have more impact on achieving your WIGs (Wildly Important Goals) than others. In this step, you try and identify where you will get the most bang for your buck and apply maximum effort there. Measures can be lagging (reported after the fact) or leading (precursors to performance). Lag measures are important but lead measures get you the results lag measures reflect. Identify your best lead measures and make them your key leverage points.
3. Keep a Compelling Scoreboard. People always play differently when they know you're keeping score. To increase engagement, make executing a winnable game. Capture your progress on a scoreboard everyone knows, everyone understands and everyone follows religiously. Make sure this scoreboard is designed by the players for the players. If you're team can't tell quickly and simply whether they are winning or not, they're probably on their way to losing.
4. Create Accountability. While the first three disciplines set up the game, Discipline 4 is where execution really happens. The reality is unless you hold yourself and others accountable, your goal will get swallowed up in the whirlwind of current activities. Team members must hold each other accountable regularly and rhythmically — with a predictable cadence. Everyone must report on their performance and keep doing so again and again before anything will change. Drop those opportunities to report on progress and life will revert back to how it was in the past. You've got to keep reporting how change is happening.