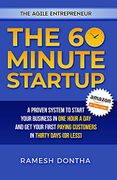 A 5 Minute Overview Of
The 60 Minute Startup
A Proven System to Start Your Business in One Hour a Day and Get Your First Paying Customers in Thirty Days (Or Less)
About the Author
---
Ramesh Dontha is a serial entrepreneur. He is the host of The Agile Entrepreneur podcast, and managing partner of his own professional services organization, Digital Transformation Pro. He also consults with several Fortune 100 companies. Ramesh Dontha worked for 17 years as a strategic planner with Intel Corporation, and for 7 years as a program manager for Tata Infotech. He is a graduate of Duke University, the National Institute of Industrial Engineering (Mumbai, India), and the National Institute of Technology Warangal (India).
The Main Idea
---
It is possible to build a profitable, money-making venture in one hour of work per day. To achieve that, you need to apply the agile entrepreneurship methodology which states:

Lots of new business builders are perfectionists who keep fiddling with logos and trying to get things "perfect" before they will even try to attract some customers. That's backwards. You should begin generating real-world feedback by trying to get to revenue as fast as you can. Start small, get feedback, make improvements, and then keep improving your business from there.
Be an "agile entrepreneur". This is someone who follows the agile approach which has revolutionized software development. Get some paying customers first, and then come back and flesh out your perfect business model, ideal value proposition, superb marketing funnel, and so on.

The great thing is you can build a new business in just 60-minutes a day for the next 30 days if you apply the agile entrepreneurship principles.
Overview of The 60 Minutes a Day Plan to a Viable Business
---
Day 1. Start with What, Not Why.
Day 2. Create Some Customers.
Day 3. See What People Want to Buy.
Day 4. Unique Value Proposition.
Day 5. Assess Market Viability.
Day 6. Decide First Pricing Strategy.
Day 7. Set Up Your Business.
Day 8. Protect Your Success.
Day 9. Set Up Shop Online.
Day 10. Set Up Your Money Systems.
Day 11. Run Your Numbers.
Day 12. Create Your Branding.
Day 13. Write Up Your Business Plan.
Day 14. Tee Up Your Infrastructure.
Day 15. Make Your Launch Happen.
Day 16. Join Some Online Groups.
Day 17. Buy Some More Customers.
Day 18. Run Social Media Contests.
Day 19. Get Featured.
Day 20. Turbocharge Social Media.
Day 21. Use Conferences and Shows.
Day 22. Start Using LinkedIn.
Day 23. Borrow Other Audiences.
Day 24. Land Some Gigs.
Day 25. Pitch on Upwork.
Day 26. Barter for Referrals.
Day 27. Do Some Product Demos.
Day 28. Start Customer Education.
Day 29. Trade Services for Leads.
Day 30. Apply Strategic Passion.
Summaries.Com Editor's Comments
---
Have you ever thought about starting a business but never got around to it? Lots of people do. Studies show 70% of employees think seriously about starting their own business, but less than 15% follow through and do it. It's that gap that this book is squarely aimed at, and the book has some very good down-to-earth ideas about how to go about starting a business in an hour a day for 30 days.
This is a little bit different to having a side hustle in the gig economy. Instead, the idea here is to put together a fully functional money-making enterprise as quickly and painlessly as possible. It's all about getting your first paying customer and then keep getting more people into your sales funnel so you can keep growing your business. To do that, you have to get away from waiting for perfection but iterate your way forward. It's a savvy combination of the Lean methodology and real-world smarts.
All in all, I liked The 60 Minute Startup. It kind of reminded me of all the mistakes I've made over the years with various businesses I have tried to start and grow. I like the ethos "Good enough to make money is good enough to make money". Keep it simple. Start something great in 30 days or less. Sounds good.