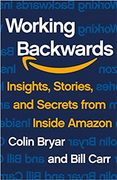 A 5 Minute Overview Of
Working Backwards
Insights, Stories, and Secrets from Inside Amazon
About the Authors
---
Colin Bryar joined Amazon in 1998, four years after its founding. He worked for Amazon for twelve years as part of the company's senior management team. For two of those years, he was chief of staff to Jeff Bezos, a role which internally is described as being "Jeff's shadow". After leaving Amazon, he served for two years as chief operating officer of RedMart before its acquisition by Alibaba. He is the co-founder of Working Backwards LLC, a consulting firm which helps companies apply Amazon's management practices. Colin Bryar is a graduate of Cornell University.
Bill Carr started with Amazon in 1999 and worked for the company for fifteen years. He served as vice president of digital media when Amazon launched Amazon Music, Prime Video, and Amazon Studios. Since leaving Amazon, Bill Carr has served as executive-in-residence with venture capital firm Maveron, LLC, and as chief operating officer of mobile marketplace OfferUp. He is also co-founder of Working Backwards LLC. Bill Carr is a graduate of Emory University and Colby College.
The Main Idea
---
Amazon holds the record for being the company that reached $100 billion in annual sales faster than anyone else in the world. Yet the problems Amazon faces are not unique — they are pretty much the same as those faced by companies large or small right across the economy, and around the world.
The difference is that Amazon keeps coming up with solutions which are based on how its employees think, manage, and act. These elements can be referred to as "being Amazonian".

To be truly Amazonian, there are six key principles and processes you need to apply:
Have solid leadership principles.
Use hiring to progressively raise the bar.
Organize so you have single-threaded leaders.
Communicate using narratives and six-pagers.
Start with the desired customer experience.
Manage your business inputs, not outputs.
Admittedly these principles are not the only way to build a high-performing organization, but they have obviously and clearly worked for one of the world's most successful companies of the current era. Perhaps they are worth trying first. Adopt before you adapt.
6 Amazonian Principles and Processes
---
1. Principle #1 — Have established leadership principles. Jeff Bezos wrote Amazon's fourteen leadership principles early on to guide the company's new hires. They have now become infused into everything Amazon does. Develop a set of leadership principles you believe in, and then build mechanisms and processes which will reinforce them day by day.
2. Principle #2 — Use hiring to progressively raise the bar. Amazon's distinctive hiring process is to have a Bar Raiser involved. His job is to make sure you're hiring smarter and better people over time, and not overlooking faults because you're swamped with work and need bodies urgently.
3. Principle #3 — Organize to have single-threaded leaders. For every Amazon project or initiative, a single leader is appointed who focuses on that project alone. You also need team members who likewise have a singular focus on making that project work. Multi-tasking does not happen at Amazon.
4. Principle #4 — Communicate with narratives and six-pagers. Powerpoint is for entertainment. To communicate complex information, prepare six-page narratives, and have everyone read those at the start of each meeting. Composing those forces people to get specific, to learn how to articulate, and sharpens their thinking.
5. Principle #5 — Start with the desired customer experience. Always work backwards from the desired customer experience when you develop new ideas or products. The best way to do that is often to write a press release and FAQs (Frequently Asked Questions). Use those tools to resolve tough issues right up-front.
6. Principle #6 — Manage your business inputs, not outputs. Put the customer at the center of all performance metrics. Emphasize inputs you do manage and control, and activities which will yield the desired results. Do that well, and the output metrics like revenue and stock price will take care of themselves.
Key Takeaways
---
Always start with what customers want, and work backwards from there. Find a problem, and solve it, rather than having a solution looking for a problem to solve.
Be customer obsessed, not competitor obsessed. Look after the interests of your customers first, and everything else will fall into place.
"I believe we are the best place in the world to fail (we have plenty of practice!), and failure and invention are inseparable twins. To invent you have to experiment, and if you know in advance that it's going to work, it's not an experiment. Most large organizations embrace the idea of invention, but are not willing to suffer the string of failed experiments necessary to get there." -- Jeff Bezos, 2015
Summaries.Com Editor's Comments
---
Great book this week. (Have I ever said that before?) Colin Bryar and Bill Carr were early-stage Amazon managers, who have now formed a consulting company to teach others what worked for Amazon. They point out that Amazon's secret sauce is they work backwards to come up with something customers want, rather than working forwards trying to make something which will be good for Amazon. It was great to read a book which draws back the curtain a little, and points out what Amazon does right.
They talk about six interesting principles, but the one that got me was how Amazon uses press releases and FAQ (frequently asked questions) to work backwards from the customer when they innovate. They don't describe a device by its processing power and features — a grunty i5 processor, matched with 32GB of Ram and a 512GB SSD hard drive, yada, yada, yada. Instead, they put together a press release: "Amazon announces the release of a new e-book reading device with access to a library of 90,000 books, available for immediate download — no computer required. Even better, this new device is around half the cost of that offered by our closest competitor." The PR/FAQ approach forces you to look at things form the customer's perspective, which has got to be good for you. Right?
A highly recommended read. (I might have said that before as well.)